Rachel:
"If you change your mind, I'm the first in line; honey, I'm still free, take a chance on me!" The first sign that the weekend was off to a good start was getting into Kat and Artem's car bright and early Saturday morning and hearing ABBA pumping through the speakers. I can now tell you quite confidently that nothing quite builds anticipation for a warm and beautiful weekend of hiking quite like a slightly-worn out cassette tape with every ABBA hit ever released. We made it to gates in no time, running into virtually no traffic on the way and missing our turnoff only once. After collecting three carloads of excited and tired VOCers and paying our respective camping dues, we headed off, eager to arrive at Garibaldi Lake and explore its stunning views and clear turquoise depths.
Sunny:
Friday night, fretting over a me-sized backpack, I was nervous and worried, almost regretting committing to this backpacking trip – my first ever. What if I don't bring enough food? What if I run out of water? What if I can't keep up with such a huge bag? I tried to sleep to stop my mind's hamster wheel.
Saturday night, I wrapped myself into a burrito into a corner of the tent. I drifted between the dim lights and murmurs of Caroline and Nikhil cooking outside, and the vivid sights and conversations of the day.
There was Garibaldi Lake, an indescribably vivid paragon of blue, and so, so refreshing to dive into… the mountains behind it, rising majestically above the waves, unbelievably close and vivid… the stories and jokes and laughter, at times interspersed between panting breaths, long into the dark… Little did I imagine the delights daylight would bring.
Sunday night, flopping into bed at home, I was drenched in sweat and filled with wonder, fulfillment, and joy, utterly grateful for the tremendous experience and lovely people. Atop Panorama Ridge, I had been breathless, from both the hike and the view. The awe-inspiring magnificence of the mountains, glacier, and lake made me feel small. But standing upon the mountaintop, I couldn't help but feel infinite – I can do anything. This had been my first backpacking trip, and certainly not my last.
Thea:
On Sunday, I woke up to the chatter of birds and squirrels, the humming of mosquitoes and the rustling of those campers around me rising earlier to make the summit of the Black Tusk before the heat of the day. After an early breakfast, we set off as the six chicas – Carly, Birgit, Theresa, Kat, Sunny and myself. It took us just under 3 hours to make it to Panorama Ridge, where we took in the pristine views of the jagged Tusk to the north and crystalline Garibaldi lake to the south. As per Omar's suggestion, we made sure to take in the view upside down. It really was just as amazing as the right way up – maybe this will become a new tradition! After sun-drenched naps and some hard earned snacks, we headed down via the small rock slope covered in patchy snow, where we bootskied and slid down to the bottom. I had packed an inner tube for the lake, which I used on the snow. It worked pretty well, but I'll have to work on my butt skidding technique for next time. The wet butts were worth it though, and definitely helped keep us cool on the hike back down to the lake in the warm, full sun.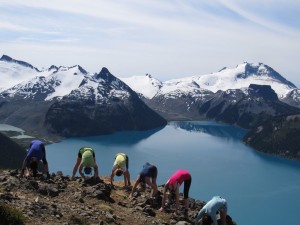 (photo by Kat)
Carly:
My nap on Panorama Ridge and the bum sliding required to return to the trail (in style) left me nicely refreshed for the walk back to Taylor Meadows. We'd made good time all day and were in no rush to return to the lake and campsite. Our group settled into our own paces for the hike down; sometimes talking, and sometimes in content silence. At one point, I found myself alone on the trail, Garibaldi Lake just out of sight, on a hill thick with wildflowers, when I heard a small noise up ahead. The flowers rustled and out poked a little furry head, followed by a plump brown body. A second marmot emerged and chased the first across the trail and onto a boulder. I laughed at them and they froze, looking over at me, then scampered off back the way I had come, resuming their tussle.
 Caroline:
Sunday morning I woke up to the sunlight washing my tent orange, and faint music of my iPod alarm. It was severely muffled and coming from somewhere from beneath my sleeping bag, and when I registered this I jumped – what time was it?? I was supposed to be up at 5:00 for breakfast, and leaving at 6:00 for Black Tusk. It was 5:54! After scrambling out of my sleeping bag and a few quick words with Birgit, who thought everyone was still eating breakfast, I grabbed my helmet and water, my pack, and granola before dashing to the picnic table. Brigit was right, but it was still a close call, and we headed out no more than ten minutes later. The birds sang quietly, and the cool air was quickly warmed by the sun as Clemens and Artem led the way with Rachel and I bringing up the rear. As we climbed, the opaque turquoise of the lake came into view beneath Mt. Garibaldi, and the Tusk seemed to grow taller ahead of us. Nervous, I put on my helmet early, but the snow patches and rock wasn't as chossy as expected. The path around the Tusk was steep and thin, and climbing the chimney was made possible only by the experienced Artem and Clemens. The view made me swallow as I looked down, but getting to the top and seeing all the mountains, Squamish, and a helicopter below made it well worth it. My first scramble was unforgettable!
Artem:
Finally, three car-loads of us made the pilgrimage to Squamish for now traditional feast of $1 samosas. I ordered five, Kat ordered two and chick peas. Our flock crowded the outside of this little restaurant, tired, dirty and utterly happy. I sat near Kat and under the light rain we reminisced about our weekend; the beautiful sights and good company. When the food finally was ready I devoured four samosas and a sizable chunk of Kat's chick peas until I was gluttonously full. We all chatted, talking about ideas for future trips like 'Backcountry Iron Chef' or a trip up to the huts, anyway to reclaim the joy we felt that weekend.