Alpine Skills Course or: How I Learned to Stop Worrying and Love the Glacier
July 10-12 2015
The crew: Sam, Sarah, Amy, Nicole, Nick, Artem, Liz
I've dreamed of traversing a glacier, but never had the chance to do so. My wish came true when I ended up in the alpine skills course, along with 6 other VOCers pretty fresh to glacier travel. Our kind organizer Sam McKoy led us along as we figured out this whole mountaineering thing.
Day 1
That morning, I downed a coffee on the ride there then promptly fell asleep until we arrived at Joffre Lakes Provincial Park. We hiked past the three gorgeous turquoise lakes, and stopped to take a quick dip in the last one.
Above we could see lots of runoff from the glacier, which meant crossing a number of streams. Most of us waded the streams with our boots on, which reminded me that taking boots off before crossing water can be nice if you don't want wet feet for an entire weekend.
After getting past the streams, we had our first taste of route finding. Our choices were hiking up a moraine, or scrambling with our heavy packs. We decided that the moraine might make for an easier start.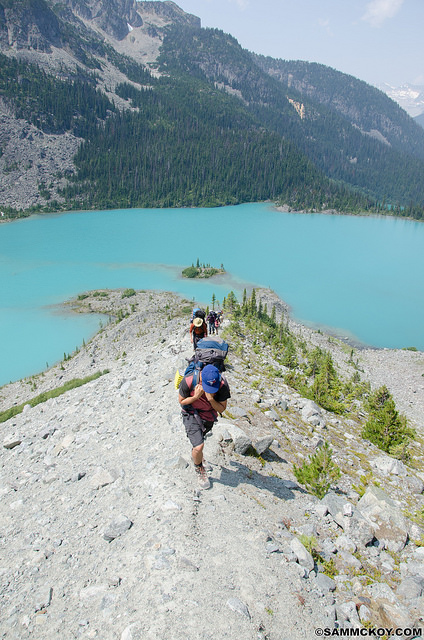 Eventually we reached the Matier Ice Fall, which was stunning but also intimidating. I fumbled around with putting on crampons for the first time, and then we began walking on ice!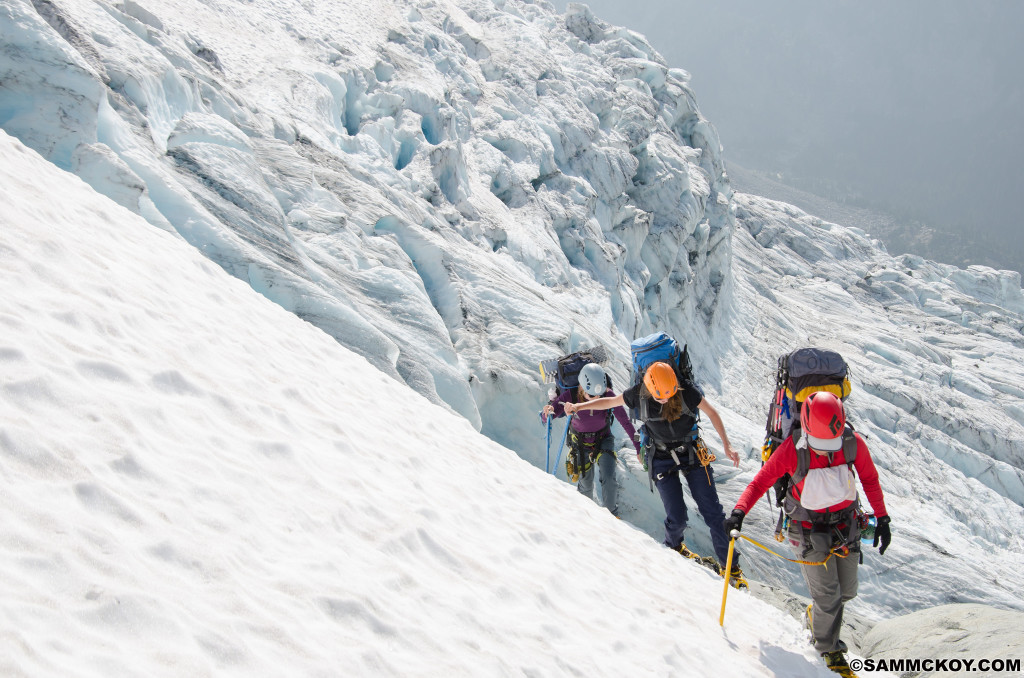 For the next part, we had to head up what appeared to be a sketchy section of ice. One by one, I watched my friends walk up with relative ease. I was the last person, and at this point the fear started to sink in. I entered panic attack mode and began crying uncontrollably. I asked Sam whether I should bail and go back to the lake on my own so I won't slow the group down. He said that wouldn't fly, and attached me to a rope so I'd freak out less. That helped, and I made my way up the ice all while shredding a couple more tears.
After going up, Sam lowered us down a wall of ice onto rocks one at a time. Sam epically used ice tools to climb down, and we all swooned and watched in admiration. One member of the group had their knees shredded apart by ice, so I guess that's why you don't really see people wearing shorts on glaciers.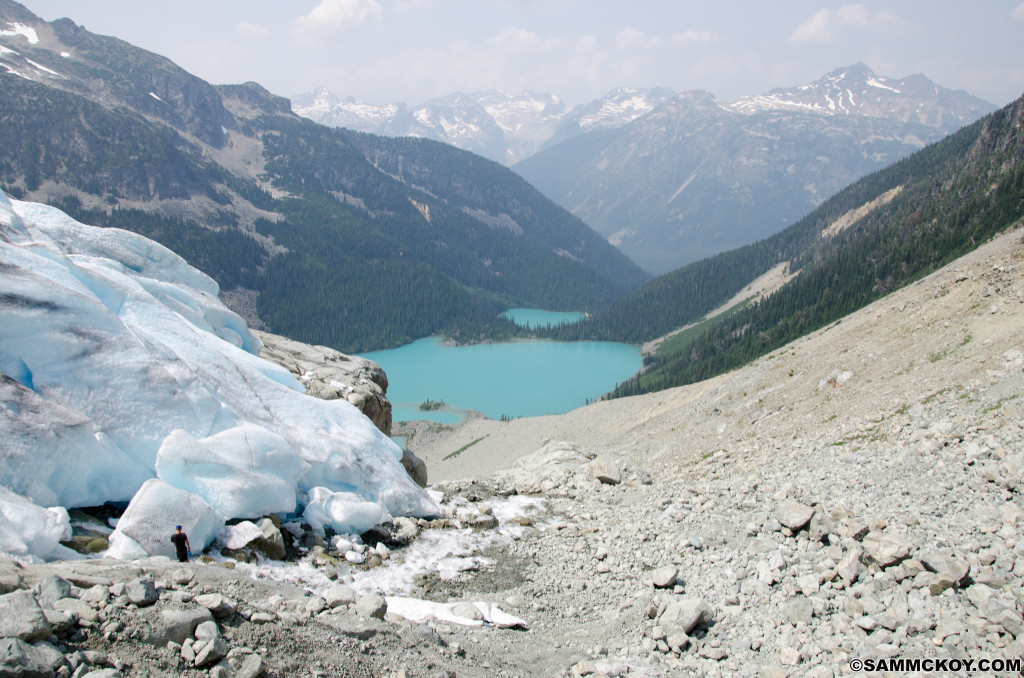 After a short stretch back on rock, we reached the Matier Glacier. Here, we practiced how to walk effectively on steep-ish snow. Our crew roped up for the first time, and slowly but surely we made it up the glacier. My favourite part happened near the top when Sam called out, "We're mountaineering!" Yeahhhhhhhh! I guess we were.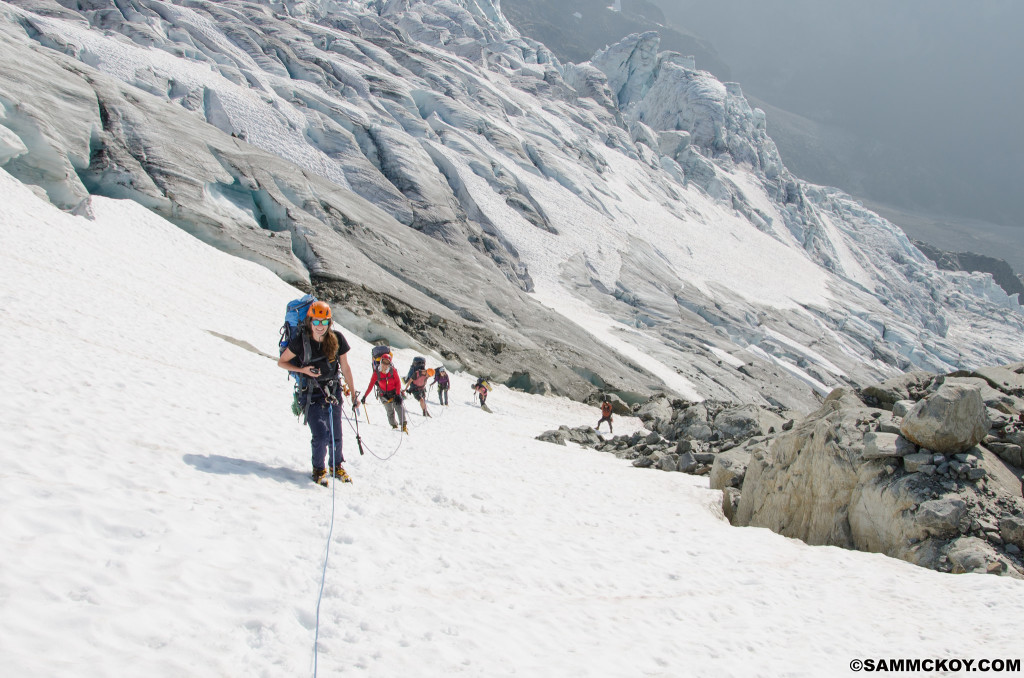 We set up camp and ate dinner while watching the setting sun cast a beautiful orange glow over the glacier. Soon after we drifted off to sleep.
Day 2
We woke up relatively early to learn some glacier skills, such as the basics of glacier formation, crevasse rescue, and knots. This may have been a little backwards considering all the glacier travel the day before, but somehow it all worked out.
After that, it was time to move on to the next camp. We roped up again and headed across the Matier Glacier.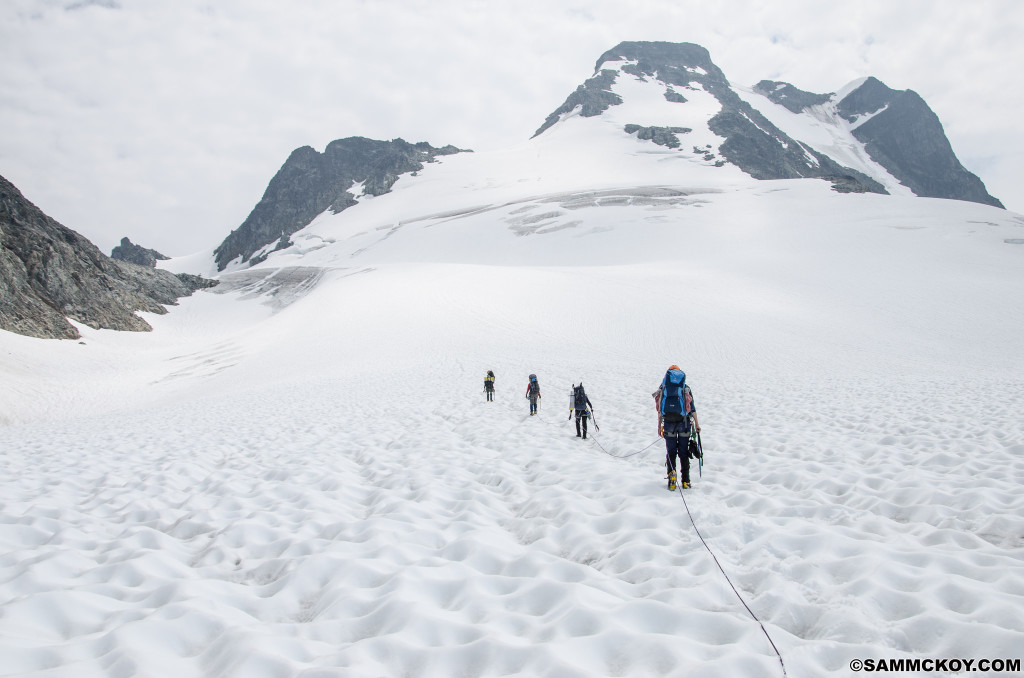 Right as we reached camp, we began to feel rain, or adventure droplets as Artem put it.
We took a stab at putting in ice screws and building v-thread anchors after watching Sam demonstrate. At this point, the rain was becoming harder and the wind stronger. We found ourselves in a white out, which obscured the magnificent view, but such is life. Some of the group practiced more crevasse rescue scenarios, meanwhile others, including myself, sought refuge in their warm tents.
Once everyone was back, we had a cozy dinner party under Sam's tarp and went straight to bed.
Day 3
That morning, Sarah and I optimistically opened the tent to see if the white out had subsided. It had not. Due to these conditions, we decided to go down to the hut to practice more skills instead of going up a peak like Matier as planned.
We roped up and went down the Anniversary Glacier, and some of us had the chance to lead for the first time.
On a snow pack near the bottom, we finally practiced self arrests. We also tried glissading, which turns out to be a fancy word for butt and boot skiing.
After some minor scrambling and following an easy trail, we arrived at Keith's Hut. Outside, we took a moment for Nicole to light a sparkler for Steph and Neil.
The final stretch to the highway on the mostly flat, easy trail turned out to be the hardest part for me. Energy was getting low, and gravity becoming more apparent. My hefty boots and pack all of a sudden seemed heavier and heavier. I slogged along, until right as we could see the road, a wasp stung me right on the nose. My face would be swollen for the rest of the journey home.
I caught up to the rest of the group that were trying to hitch a ride back to our cars. Nicole crafted a sign reading "7km to car', which was successful and a nice couple stopped. They even kindly gave us a bag of fresh cherries!
Our cars showed up soon after, and we headed to Pemberton to treat Sam to a burger, then drove home.
A huge huge huge thank you to Sam for organizing the trip and teaching us all these valuable skills that will definitely be passed on within the club!
Photo credit: Sam McKoy