First we drove. And drove. Then drove some more. Finally we walked. And walked. And then walked a bit more. Somewhere along this great distance we left the gray rock and glaciers of the Coast Range behind and found ourselves in a new world. Even now, two months after the fact, I struggle to define the allure of the South Chilcotin – partly reminiscent of the red San Juans of the Colorado Rockies, but also vast and barren as the altiplano of the high Andes – this lonely place provides a unique combination of sights unlike any other I've yet encountered. Hopefully photos can speak louder than my words, as often I found myself speechless among these amazing mountains.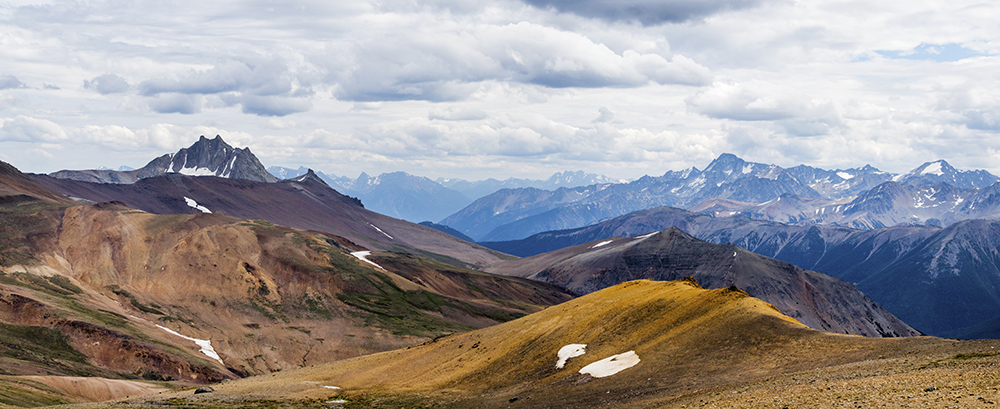 ************************************************************************************************************
Let's back up a bit. This all started, as many of my trips often do, with me procrastinating from grad school. My main concern at the time was finding a nice, non-crowded backpacking destination for the BC Day long weekend (August 1-3). Looking around on Google Maps, I found a promising lead: South Chilcotin Provincial Park. I had never heard of it and the photos looked pretty, so that seemed like a good sign.
A couple weeks later a small (and thus corona-friendly) group, including myself, Joshua Ma, and Philippe LeBillon set out on the long 5 and a half hour drive to the trailhead. Leaving late on a Friday, we switched off driving as needed before stopping at a pullout on the side of the road at midnight for some rest. After sleeping in somewhat, we arrived at the trailhead midway through Saturday morning.
Despite my research, we realized while looking at the trailhead map that the distance to our intended camp was a bit longer than I expected. Oh well, at least there wasn't too much elevation to gain on the hike in. So we started the long trek in to our basecamp, which we decided would be at Hummingbird Lake (Spruce Lake was also considered, but we decided it was too popular and not nearly as scenic).
The hike in was a slog. I can see why people frequently choose to use mountain bikes on the approach. Despite some pretty aspen meadow scenes in the middle, there really isn't a ton of great scenery on the 20+ km hike in. But thankfully we weren't ready to give up on the Chilcotins just yet…
Finally, after the aforementioned walking and walking, we arrived at Hummingbird Lake. This beautiful blue lake has pretty good views right from the campsites. One site was already occupied, but the other two were vacant so we chose the furthest from our neighbors and set up our base camp.
After faffing about at the lake (including the maiden voyage of my new packraft), we went to bed early to try to recover enough for a big day hike to one of the nearby peaks.
By morning we still hadn't quite decided on a destination, but no matter what we would want to hike around the lake, past nearby Trigger Lake, and up to Deer Pass.
We had been pretty lucky with the bug situation so far, but that was about to change. As we approached treeline we suddenly found ourselves being swarmed by horseflies. This has never happened to me before and I can't say it was fun at all…
Originally we had considered climbing Mount Sheba, but that now appeared both too far and too difficult for our already tired legs. We did want to get to the top of something, so we decided to start with the unnamed peak above Deer Pass.
At the summit, we realized just how close were actually were to neighboring Mount Solomon. We immediately decided that a named peak is better than an unnamed one and so set off in that direction.
Soon we found ourselves on the summit of Mount Solomon. Glad we made the trip, as the view was even better up there.
With some potential storm clouds building, we soon left the summit of Solomon and began our descent back down to camp. Along the way we stopped to enjoy the fields full of a wide variety of flowers.
My day had been going almost perfectly so far, which meant I was due for a slight correction. As we descended and rain clouds started to build, I realized I might have a problem – I hadn't bothered to put my rainfly on my tent before leaving camp. Rookie mistake, I know, especially in rainy BC. The others, tired and hurting from our second long day of walking, did not seem to share my new sense of urgency. So I passed them and started booking it back to the lake as the rain drops started to fall. I was in luck – not only did I beat the rain to my tent, but I got to watch a stunning scene as it moved over the lake while the sun simultaneously broke through the clouds.
Not too long after, Josh and Philippe joined me at camp. As the rain quickly dissipated, we found ourselves the sole occupants of the campground and decided to spread out a bit. This takeover also included the fire pit, making the night extra perfect.
On Monday morning we sadly had to leave this amazing place and return to our lives in Vancouver. The mountains made sure to give us a good sendoff though:
The hike out was uneventful, though maybe it seemed a bit prettier than the way in (or maybe we were just in better spirits at that point).
Finally we arrived back at the trailhead. I've never been happier to see a bunch of cars in a dirt lot. We took some time to recover and eat lunch before starting the long drive back to town.
The adventure, however, was not quite over. Philippe had mentioned taking a scenic shortcut through the mining towns of Gold Bridge and Bralorne and over the infamous Hurley FSR to Pemberton. I'm not really one to pass up a scenic but challenging drive in the Tacoma, so we headed out that way.
Turns out that Philippe may have had an ulterior motive for visiting these towns: they are just starting to see some gentrification seeping in from the Coast and he wanted to scout out some real estate investment opportunities. Darn professors and their relative financial security! We ended up wandering around for a bit, particularly in Bralorne. We made sure not to interact with the locals to stay covid safe, though I really wish I could've checked out the mining museum there.
I didn't want to linger too long, as my Colorado plates weren't likely to earn us a warm welcome from the locals. Soon we were off to the Hurley FSR. There's an entire website devoted to "surviving the Hurley" so I had some expectations of difficulty, but it actually seemed pretty well maintained. The washboards on the Pemberton side are not amazing, but it doesn't require high clearance or anything, just 4WD to keep from ruining the road on the uphill.
Overall, I can't think of a better way to have spent the BC Day long weekend. The Chilcotins are a truly special mountain range, one that I expect I will return to someday. Maybe with a mountain bike to make the long approach less arduous!