As a first year going on my first VOC trip, I was pretty stoked to get away from Vancouver for a weekend as well as do probably one of my last hikes of the season. In fact, I got to the McDonald's on Hastings (where I was meeting Sam Viavant and Tereza Jarnikova) early! Sam forgot to factor in the fact that it was below 0 the night before, and alas, he had to defrost his car in the morning… I couldn't be too mad though because I capitalized on the opportunity and drank a much-needed large coffee. At 6:40am, we were on the road. Jarnikova
We met up with the other car group (consisting of Jacob McFarlane, and fellow new VOC-ers Arielle Garsson and Thanh To!) in Pemberton then headed to the trail head. This trip was my first time backpacking in autumn and was going to serve as an intro to winter camping, as I thought it would ease me into it and give me a chance to reevaluate my gear. Upon getting to the logging road, we realized pretty quickly that the conditions were far more wintery than thought. Oh well! We had initially aimed to get to the end of the 4WD road and start the hike from there, which would've made it a mere 5km. I had to give Sam's soccer mom van kudos, because it fared far better than I would've thought. But about 2km up, we had to leave it behind and pray that it would start when we got back down the next day. Jacob's Honda CRV "Betsy" did a bit better, but we decided to abandon it as well. So we put on our gaiters and gloves and got to it.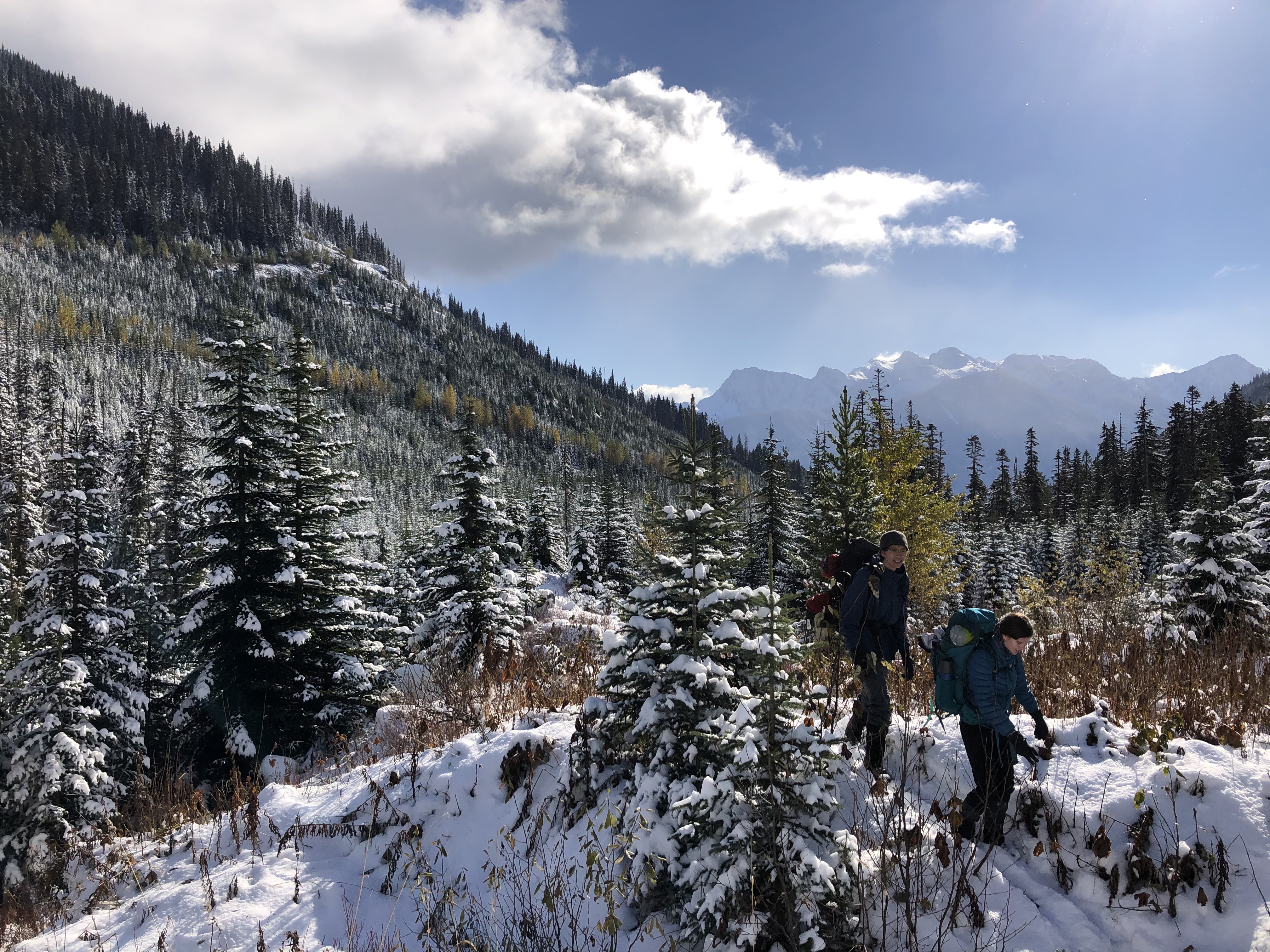 The hike itself was awesome! Amazing views, perfect sunny conditions, and the aspen dotted the mountains with gold on our way up. It started off pretty mellow, with around 10cm of snow on the ground, but as soon as we got past the old pick-up truck, things escalated. Sam was the trailblazer and made it a bit easier for the rest of us as he went on ahead.
Trudging up the snowy switchbacks, Tereza (the resident mushroom forager on this trip) found some pretty cool specimens and marked their locations as waypoints on Gaia (obviously) so we were able to collect them on the way back. After a 5-hour ish ascent we reached the lake, which was beautiful as well as partially frozen. Upon reaching the hut, the sun was casting a pink glow on the mountains surrounding the lake that I wish I could've gotten a photo of! We all set up our tents, used Jacob's handy ice pick (because why wouldn't you bring an ice pick?!) to get the chunks of ice off of our hiking boots, and promptly started a fire inside in hopes of thawing some of our gear.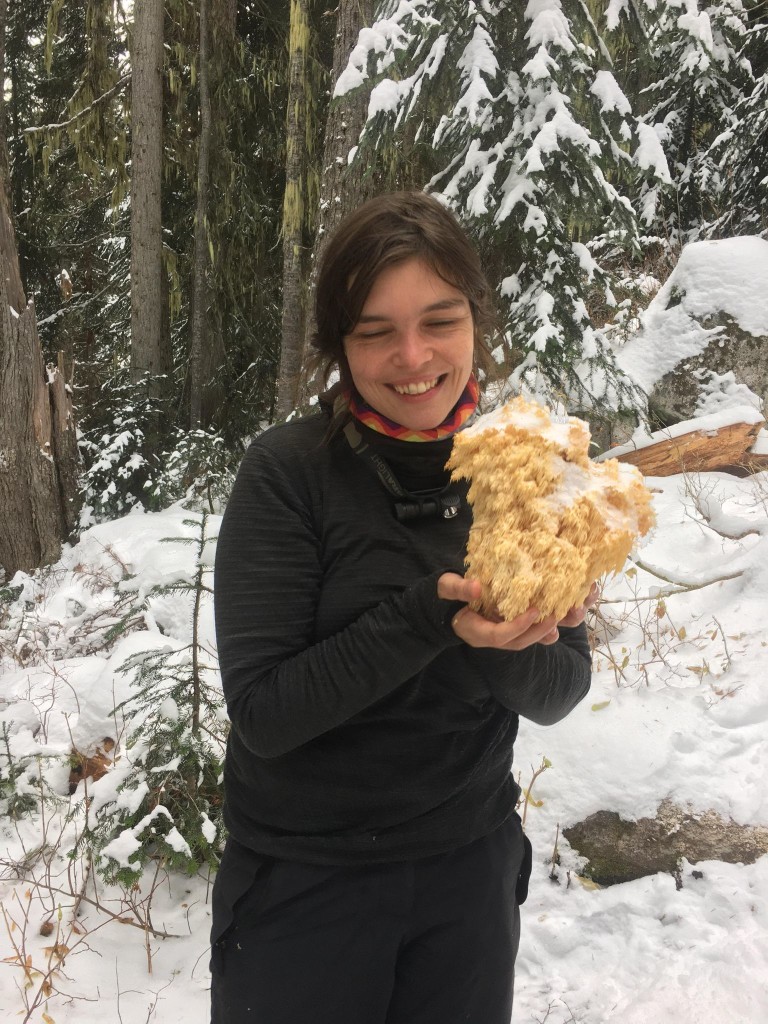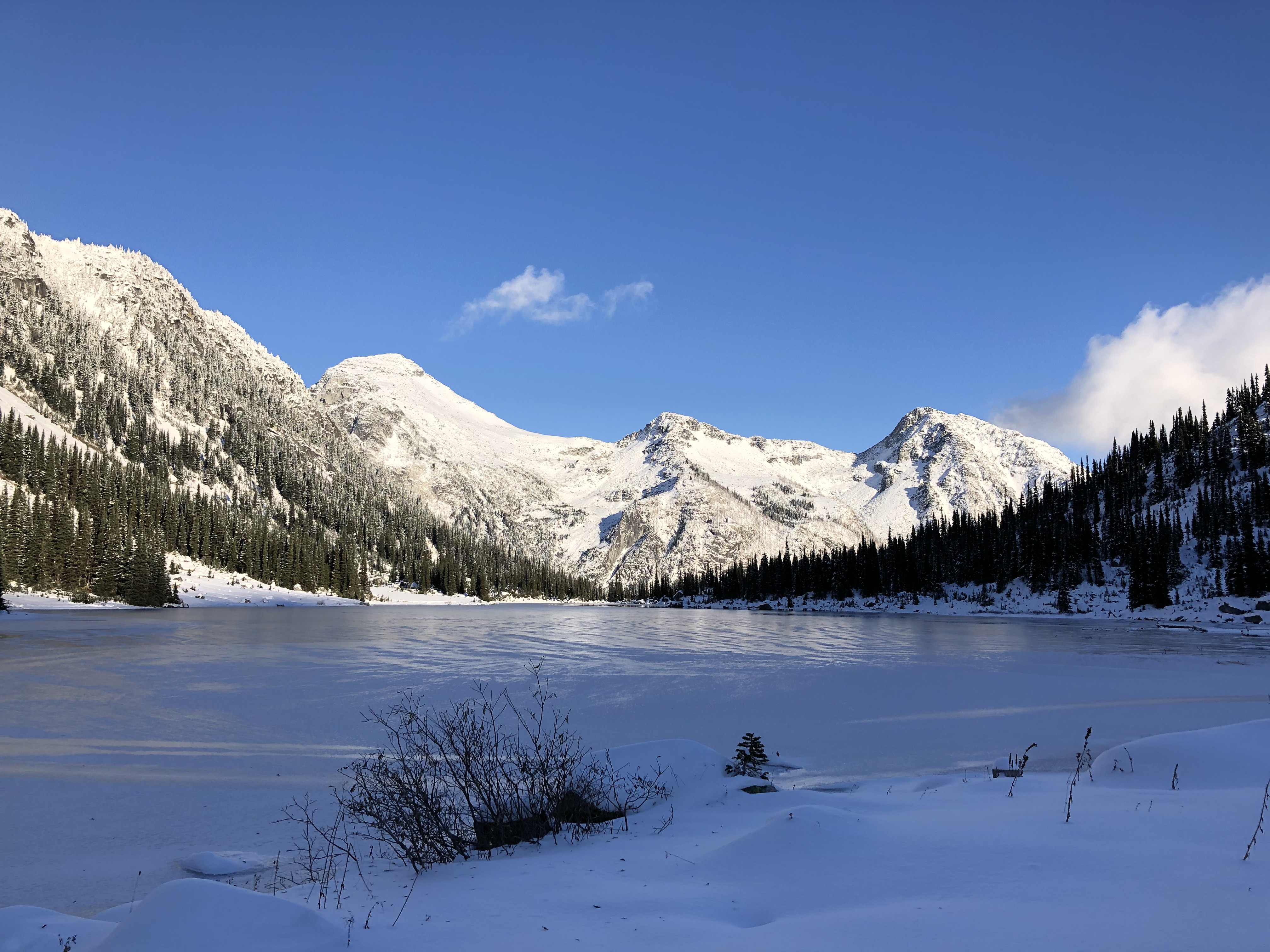 After everyone had layered up, we were ready for dinner. There was an assortment of meals, and while  some looked delicious, some seemed a bit sketchy. Tereza cooking bacon in her Jetboil definitely was one of the latter, but I've got to give her credit for pulling it off. Sam made a makeshift "pad thai", if you can call whole-wheat spaghetti, peanut butter, and ramen seasoning pad thai. It didn't look bad though! Around 7pm, Tereza broke out the hot chocolate that she had promised and it was DELICIOUS! And vegan too!
Soon after, it was alpine midnight (9pm) and we were ready to go to our tents. I'll admit, I didn't think it would be as cold as it was, and I found my sleeping bag didn't have nearly enough insulation to keep me warm. At around 1am, I joined Sam and Arielle in the hut in hopes of defrosting my toes. Tereza and To managed the whole night, as well as Jacob in his bivvy. Either way, I realized that I would definitely have to invest in some new gear for the upcoming tele/backcountry ski season.
In the morning, we all compared how long we slept for – the average was around 5 hours. We had originally planned to summit one of the cols (Frodo-Gandalf had potential) but instead opted for a quieter morning playing cards and continuously boiling water to keep our hands and hearts warm. Packing back up was fairly straightforward and our boots were mostly dry-ish…
Sam went on ahead for the descent, and the rest of us made it back to Jacob's car in good form. We decided to stop in Pemberton and had wanted to go to Mount Currie, but that was derailed when we realized it was closed, so we went to "The Pony" instead. At first I was suspicious because it sounded more like a pub than anything, but the food was delicious!
We got back at around 8:30pm, and upon getting home I crashed. I haven't hiked with a pack that heavy since the summer, and I definitely haven't camped overnight in –20 degrees conditions. The lingering cold has finally gone away and I am super excited for the upcoming winter season and many more trips with the VOC!!
Thanks to Tereza and Sam for being amazing trip leaders, and to everyone else for being great conversationalists and for welcoming me to the club:)