With beautiful weather in the forecast, and fond memories of the last weekend clearing alder in the rain (see https://www.ubc-voc.com/2021/10/20/ark-a-new-brew-trail-during-the-flood), Ross Campbell did his best to motivate people into another work hike with the promised allure of skiing and a night at the hut under Northern Lights. He managed to convince 10 of us to come, 3 day trippers, 4 snowshoers, and 3 skiers, although none as dedicated as Ross – who decided he would leave the car with only his ski boots and hut booties as footwear. The trail up was well cleared from the previous workhike, and after a good hour we were faced with the remaining Wall of Alder. Armed with loppers and chainsaws we started the day with high ambitions, clearing a trail wide enough to hopefully prevent snow laden Alder from blocking the path in winter. As the day progressed though and our timeline for making it to the hut became threatened we pushed more aggressively, making a still wide, but much less pretty trail to the waypoint indicating the "end".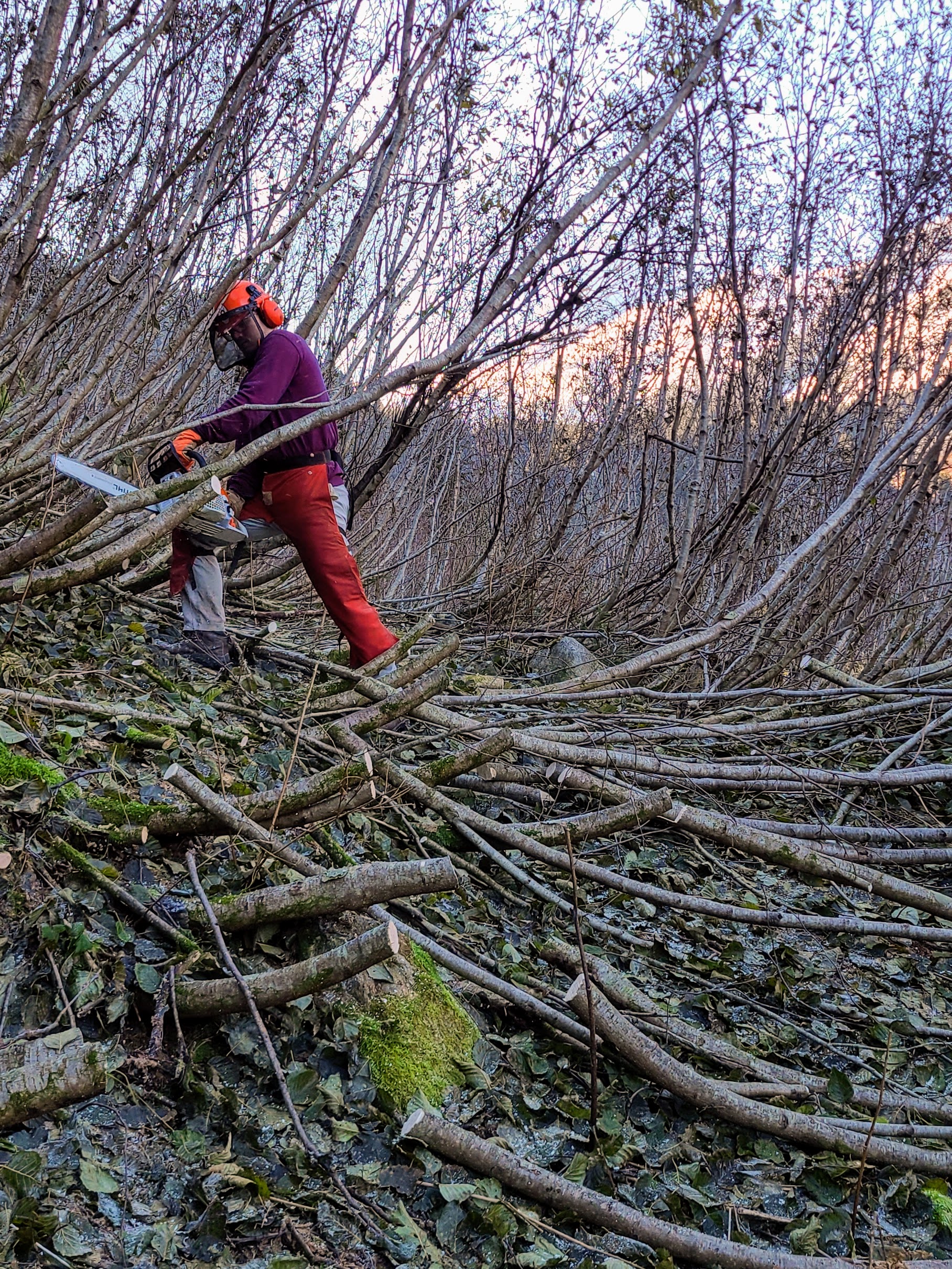 When we got there Ross ventured up the hill to investigate, and came back reporting that the way was absolute shiiit: no welcoming 'Old Growth' there… nothing but thorns, thistles, and devils club for as far as he dared go. Naturally we decided that was our path to the hut. Mary-Jo Weir Weiss wisely chose to join the day trippers, with only an hour of daylight left there seemed little hope of skiing anyway. Ross and Alex Janusz both decided to leave their skis on the cleared trail, a smart decision for the thick bushwack ahead we thought. What we didn't realize though was that left us with 4 snowshoers, and 2 postholers. The GPS track laid out by Tom Curran and Cassandra Elphinstone in the spring showed just over 3km to the hut, with high ambitions we hoped to reach the alpine before dusk. The first few hundred meters were slow going through the thickets. The steep slope felt like slab climbing, no handholds and difficulty trusting your feet, but instead of scraping your face on the rock if you fell, it'd be a face full of thorns. By the time we broke into less thorn choked old growth the snow on the ground was becoming thicker, and by dusk we were all postholing through a boulder field, about 600m from our start point.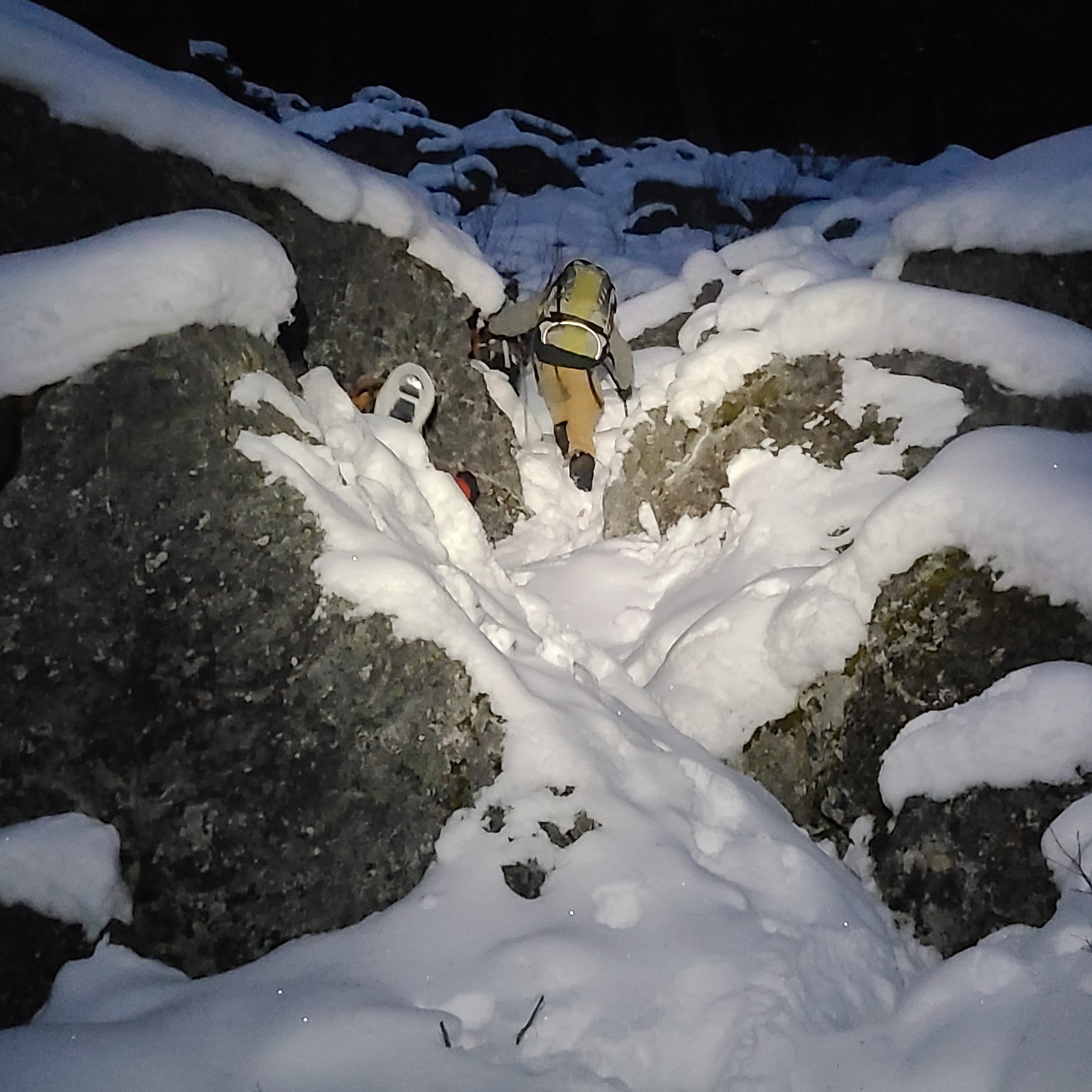 Shortly after turning our headlamps on, consistently sinking knee deep we decided to don our snowshoes. This is when the double edged sword of leaving behind the skis really started to become apparent. It wasn't long before Ross in his ski boots was resorting to crawling on hands and knees to keep up. Some weight redistribution helped the matter for a time, but soon Alex two was sinking waist deep in snow with every step. There was some discussion of leaving the two postholers behind with a 2 person tent, but instead Cassandra opted to give Alex her snowshoes and join Ross crawling on her knees behind us. At this point we're checking the gps every 50m or so, at least 3h into a 3km hike, with over a kilometer yet to go. The alpine wasn't the easily traversable safe haven we had hoped for, instead it presented new challenges of steep slopes showing evidence of recent avalanche activity. Every time we rounded a corner, there was a new hazard to assess, and often go up and over, or down and around. A few times we traversed right across recent slides, assuring ourselves the snow had solidified from the cool night temperatures. After one final steep traverse the Hut came into view with faint light escaping the windows. We arrived at 10:20, just over 5h after we left the cleared trail, and 4h after sunset. There were 2 other small groups already warming the hut for us, one who had forded roe creek, the other had taken the brew lake trail. After some quick dinner and last hopeful glances north searching for the aurora, our sleeping bags were calling.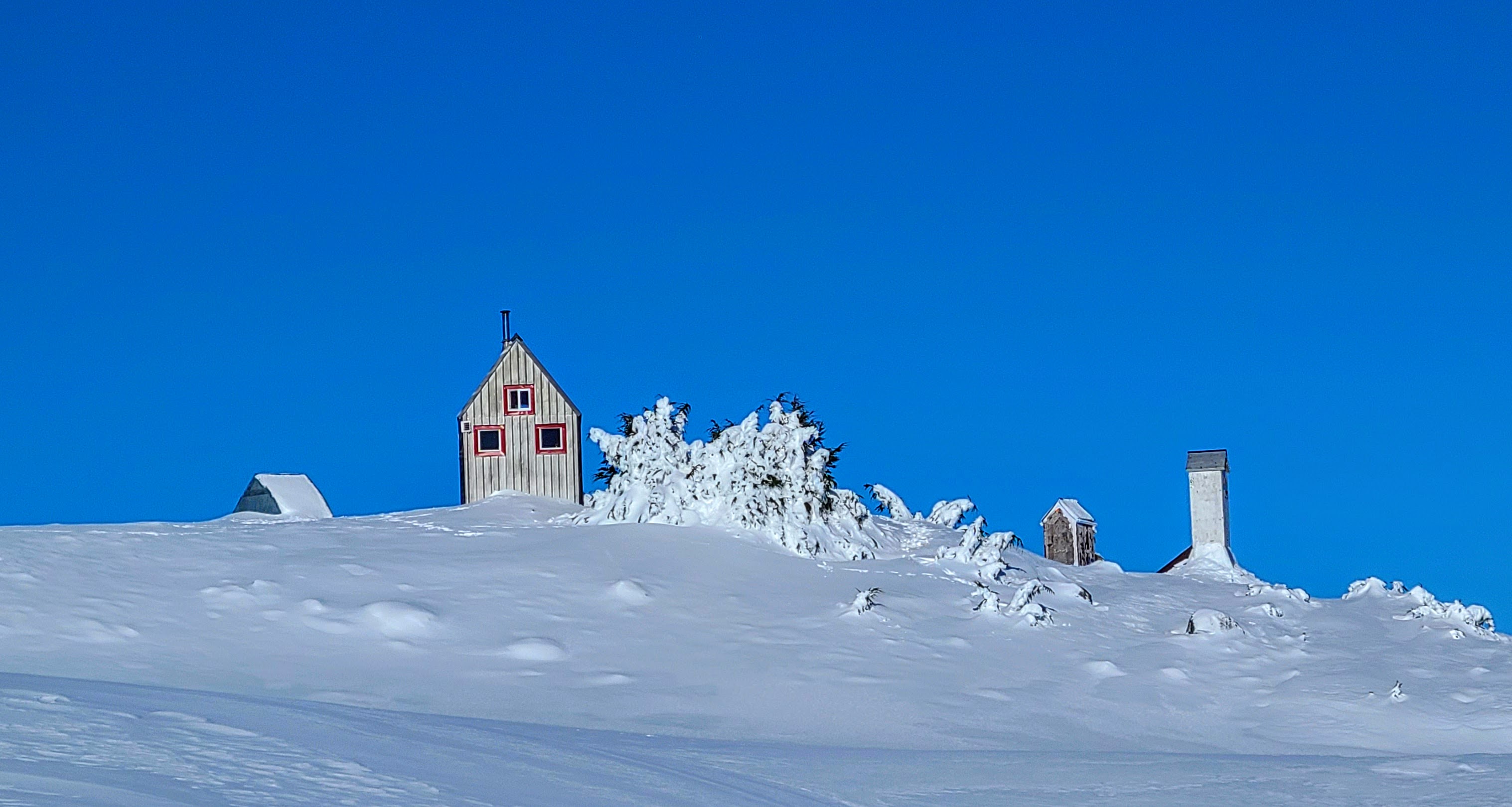 The next morning we expected to quickly install the new door handle that was sponsored by the FMCBC's member club grant (Thank you!) and get back down to tidy up some of the trail and leave early for the city. Unfortunately the poorly installed door jamb had other plans. Three hours of faff and some clever problem solving later, we were on our way again, having left the hut in better shape than we found it. The door now had knobs on BOTH sides (round ones at that, so less risk of people forcing it), and even latched properly instead of relying on heavy closing springs to keep out the wind. Due to our late start, some of the more precarious route finding decisions of the previous night had to be reworked to account for the now sun warmed snow. In general we made good progress, enjoying the beautiful views we had missed on the way up, and even trying out some MacGyvered snowshoes made out of bent tree boughs and string. The homemade snowshoes ended up mostly as pack decorations, but luckily the trail from the night before had solidified a bit and was mostly walkable by Alex and Cassandra. This time Ross had Cassandra's snowshoes strapped to his ski boots which seemed to be a winning combination.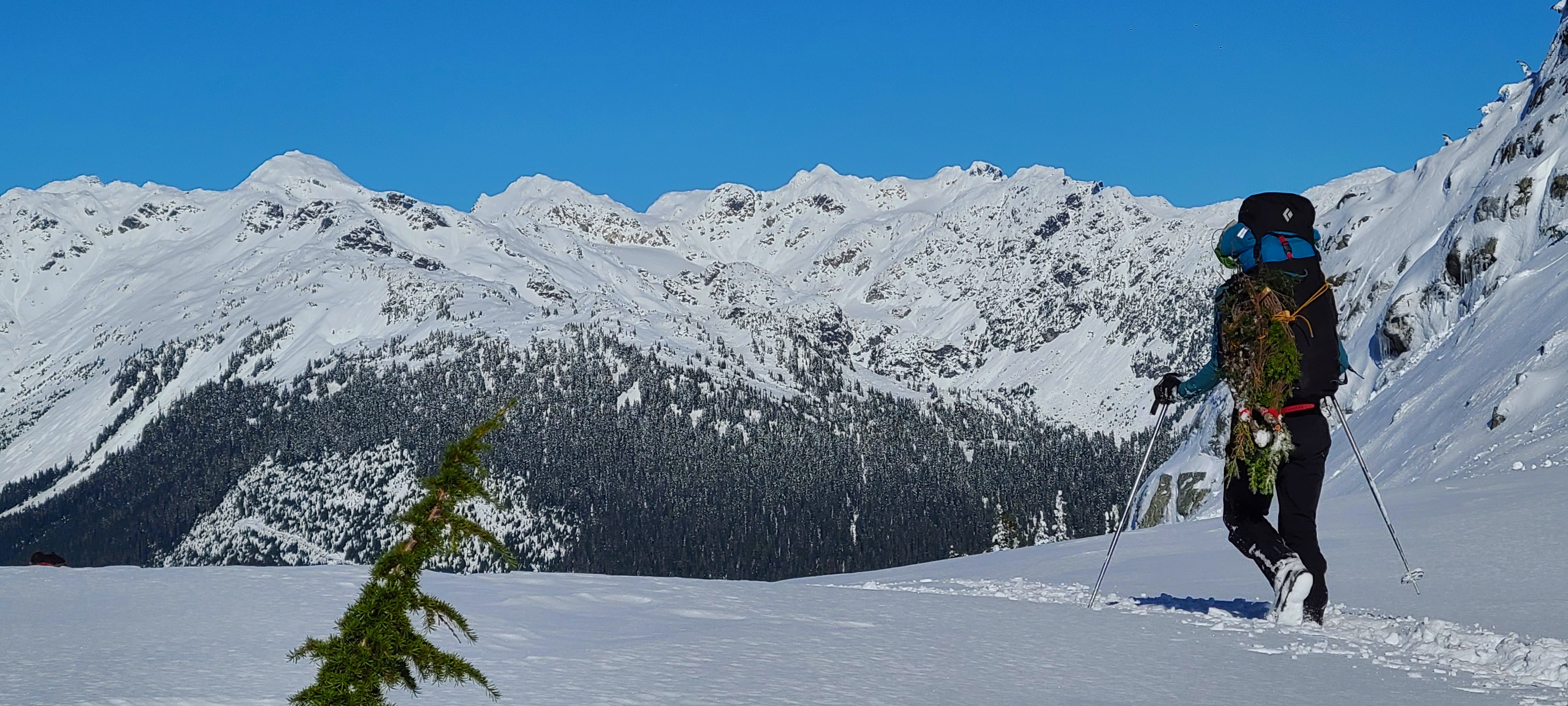 Down through the old growth we decided to try a different path to the new trail, which looked less steep, but landed us about 200m further down the uncleared section of trail. In the moment this seemed preferable to downclimbing through the thorn bushes, but it proved to have its own challenges as the uncleared trail was thick with Alder, terribly slow going with overnight packs. We made it back to the end of the cleared trail by 3:30, a small improvement from our uphill time, but nothing to get excited at. After grabbing the leftover tools the rest of the hike down the cleared trail was spent debating if this would ever be a reasonable winter path to Brew.