April 15-17, 2022
Trip members: Shu Yu Fan, Beth Roskilly, Kyra Przybylski, Joseph Meyer, Martin Kuerbis, Emily Wood
With one exam done and 4 more in the next 8 days, I decided that the best way for me to spend my long weekend was heading up to Sphinx hut with 5 other VOCers. The trip started early Friday morning with some bike rack faff, which is an unusual thing to have on a ski trip. After sorting that out, we got on our way and were only a little bit late in meeting the other car group at the second Tim Hortons in Squamish. After the necessary food and caffeine, we eventually made our way to the Rubble Creek Trailhead.
Less than 90 minutes later than planned, at about 9:15, we started up the trail. There was no snow in sight for the first little while, and we bootpacked about 2.5km before putting our skis on. Once my skis were on my feet instead of my back, the time passed by much quicker, and we made our way up to the 6km mark, where we stopped for lunch.
The weather had been snowing on and off all day, and it chose the moment we reached Garibaldi Lake to turn into a bit of a whiteout.
Having never been to Garibaldi Lake before, I didn't realize just how big it was, and just how long it took to skin across, and not being able to see anything didn't help. I followed Shu Yu, who for some reason was keen to break trail all the way across the lake, and we eventually reached the hut at around 4:00. Luckily for us, we didn't have to dig out the door, so we went right in and settled down.
It took less sugar than expected for me to feel ready to ski again, so I along with Martin, Shu Yu and Joe headed out at around 6:30 for a quick lap of the smaller slopes behind the hut before dinner. At the top, we paused briefly to scope out potential objectives for the next day, and then started to make our way back to the hut.
I followed Martin down the north aspect of the little slope we were on, and we found some pockets of nice snow. At the bottom (which wasn't all that far from the top), we figured we'd gotten in three good turns for the day (better than nothing, right?). We got back to the hut sometime between 8 and 8:30, just before dark. When the moon came out, it illuminated the landscape behind the hut, making for an epic view. We all stood out there as long as we could bear before getting too cold and eventually one by one heading back into the hut for the night.
Upon arriving at the hut, we'd found a nice igloo that someone had built just outside, and after inspecting it and deciding it probably wouldn't collapse, Martin opted to sleep in there instead of in the hut. Alarms were set, warm Nalgenes were made, and ski boots were (finally) taken off, and while I can't speak for the rest of the group, I fell asleep almost right away.
The night was a lot colder than we expected, and in the morning, the little thermometer that Shu Yu had brought read -25. Martin managed to survive the night in the igloo with his -7 sleeping bag.
After waking up at 6:30 and planning to leave the hut at 8:00 to head towards the Bookworms, we didn't actually leave until 9:15. A snowshoer that had left from the trailhead very early that morning had enough time to get to the hut and heat up some Gatorade on his stove before we even left. Turns out he was planning to summit the Sphinx solo and make it back to the trailhead before the end of the day (he said he was solo because none of his friends were crazy enough to do it as a day trip) It was a cold morning (-25, apparently), but the sun was out and it looked like it would be a beautiful day. We started out skinning through some bushes to get around the lake behind the hut, and then began to head up towards the point where we would have to decide between skiing Sphinx or Bookworms.
Kyra wasn't feeling well, so she decided to head back to the hut and spend a chill afternoon in the sun. A snow couch was made. The rest of us decided that we would skin up the mellow corridor that led to the Bookworms, and maybe head towards Sphinx later in the day if we had enough time.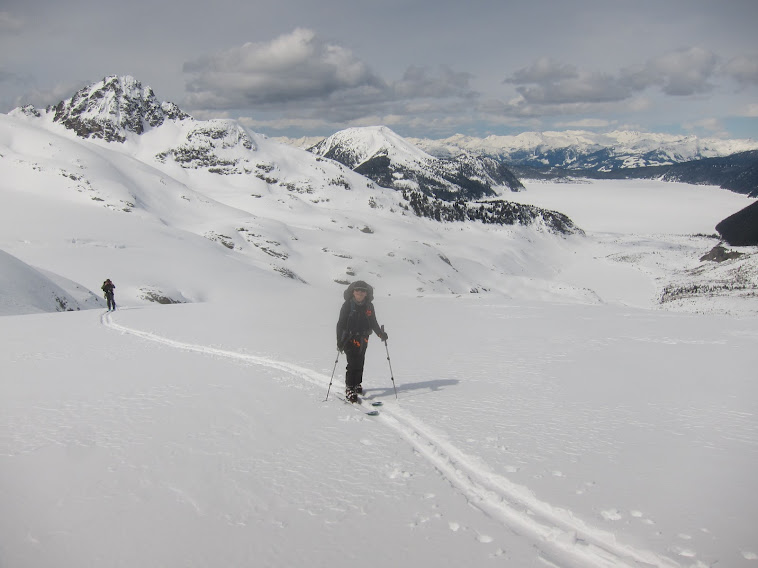 At the top, we spent about half an hour eating lunch, admiring the view, or enjoying a brief nap before it was time to start skiing down.
In contrast to what I'd been telling myself all the way up, we quickly realized that skiing down was almost just as difficult as the way up. The crusty snow hadn't softened up in the sun as much as we had hoped, and every few turns you would spontaneously break through. The effort required to turn plus stay upright after breaking through the crust combined into the ultimate leg day.
Back at the lake, we followed a skin track that was presumably Kyra's, although we weren't sure why she had opted to cut across the lake perpendicular to the hut rather than just head straight there. Figuring there was a good reason for it and not in the mood to break trail, we followed the track which met back up with our tracks from the lap that we had done the night before. We ran into Kyra collecting water from the creek, and she asked if we'd followed her track across the lake. As it turned out, she'd headed that way earlier in hopes of catching sight of the five of us on the way up to Bookworms, and wondered (accurately) if we'd unwittingly follow the track at the end of the day.
Back at the hut, there was talk of heading back out to ski the Garbage Pile, and I knew if I took my boots off there was no way I'd bring myself to put them back on, so instead I sat and tried to move as little as possible while eating as much food as possible. About an hour after returning to the hut, Kyra, Martin and I headed back out for our Garbage Pile summit. My legs were tired from the long day and I had some gnarly blisters on my feet, so my skinning pace was record-breakingly slow. In one steep section, I slipped right back down and lay on my pack for a minute until finally getting back up after some words of encouragement from Kyra, swearing from me, and a near-casualty of my nalgene, which fell out of my pack and almost started heading back down the slope to the hut without me. The other two waited for me to get to the top before taking our skis off and bootpacking to the "true summit" (which was at least 20cm higher than the highest point we could ski to). After a whopping two or three meters of bootpacking, we reached the summit and looked back towards the hut. We could see Shu Yu's track across Garibaldi Lake from the previous day, which was mostly straight despite having to navigate through a whiteout. We stood on the top of the Garbage Pile until we got cold, and then got ready to ski down.
We skied off the north aspect before looping around to the south to ski down to the lake, and the north-facing slope had much nicer snow than what we had skied on the way down from Bookworms. Although short-lived, we realized that we had matched yesterday's record, with another grand total of three good turns all day. We got as far across the lake as we could and then put our skis into walk mode without bothering to put skins on to ski (slip?) back to the hut.
We ate dinner and made plans to leave the hut at 7 the next morning to do one last morning lap before eventually making our way back to the cars, planning to ski towards Deception in search of some more nice north-facing turns. Martin opted to stay in the hut instead of the igloo, although the second night turned out a lot warmer than the first. Several alarms went off before 6:00 the next morning, to which nobody responded except to turn them off and retreat back into our sleeping bags. At 6:00, someone eventually decided that it was time to actually get up, and everyone else eventually followed suit. While we didn't quite make our 7:00 target, we did much better than the previous two mornings in terms of lateness, and Martin, Joe, Kyra and I headed out at around 7:30. Our original plan was to skin up until 10:00 and then turn around and ski down from wherever we made it to, hoping to have enough time for a quick lunch break back at the hut before leaving around noon.
Unfortunately, at around 9:15, a whiteout started rolling in towards Deception. Given that none of us had skied the terrain before, we decided that the best decision was to turn around then instead of continuing on and risking having to ski down in even worse visibility.
What followed was by far the best skiing of the weekend. When we got back down to the lake and started putting our skins on to head back to the hut, we realized that we'd finally broken our record of 3 good turns per day!
Back at the hut, we got our stuff packed up and headed back across the lake, which was much more enjoyable when I could see farther than five feet in front of me. We stopped for a break on the other side, before skinning back to the 6km mark where we'd stopped for lunch on the first day and finally taking our skis off to ski the rest of the way down.
At one point, we came across a fallen tree across the trail. After trying to step over it with skis, Kyra decided the best strategy was to take her skis off, climb over, and then put her skis back on to keep going. Joe opted for the ski-only method, and confirmed that Kyra made the right decision by slipping partway down the hill, luckily getting caught by some branches before sliding too far. Unfortunately, neither Kyra nor I had any phone battery left to get a photo, but suffice it to say that after witnessing both methods, I adopted Kyra's strategy and took off my skis.
At about the 2.5km mark, after narrowly avoiding one too many rocks, we decided the trail wasn't ski-able anymore and got prepared to bootpack the last bit. On the way down, we passed many hikers heading up the trail, many of whom had made even poorer choices of hiking footwear than I did (I'd take ski boots over flip-flops any day). Back at the parking lot, we enjoyed a last few minutes in the sun before finally accepting that we did in fact have to return to the real world… but not before a stop at Luz Tacos in Squamish.
Epilogue: I survived all 4 exams!