A destination: Adam proposed we go to Keyhole because a VOC trip there last year was pretty good. I have had good trips and bad trips there. I didn't want to carry all my stuff for a km or two in snow of unknown depth. There's a lockable gate across the road just past the Hurley. If the gate is locked, we would stop driving a long way from the hot spring. So we persuaded ourselves to go to Skook and if that was not available, then Sloquet which is another hour of driving.
More planning: There seemed to be lots of people "Committed" but only my car. So we quickly filled my car with the people on the top of the Committed list and waited a few days for mid-week to happen. About 48 hours before departure I emailed the three "Going" people to ask if their address was still correct and if they would be available to be picked up around 6:30 am. Well we eventually found that two of my passengers had bailed and hadn't bothered to change their status on the signup list, so Adam was now looking for two people to share the cost of gas, and another driver if possible. So kids, make life easier for your trip leader. If you decide you aren't going, need to study, got Covid, got injured, found a better trip or for some other reason you need to bail, let us know asap. Eventually Adam found passengers and Aino provided a Subaru so we had 9 people and two cars. We weren't sure we would find warm water because there was snow in my back yard in Vancouver and we had to drive to scary places like North Van, Whistler, Pemberton and Beyond.
Going there: The trip was pretty well uneventful which is the way we like it. There was less snow on the road than in my back yard. We arrived at Pemberton McDonalds too early for lunch and had to settle for McBreakfast. We had heard that Skook had deteriorated; that they had no toilet paper (we brought lots), but we found that it had been systematically destroyed. There was nothing left that could hold warm water except the main reservoir which is way too hot and the ditch which did not appeal. All tubs had been turned upside down or punctured. Even the A-frame over the big tub had been knocked down. All that was left was the signs, about no smoking, drinking, dogs, etc. There was no attendant. The place was deserted. So obviously if we needed warm water we needed to drive another hour.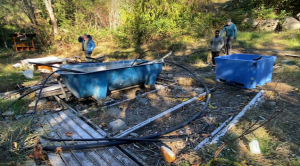 SKOOK DEVASTATION
We took a side trip to see the place with the church, which seemed to be the place that cars go to die. Road remained mostly in good shape. At Sloquet we found the attendant and his dog. He was nice and friendly, and the first human we had seen since Pemberton. He charged us $20 per carload and gave us a receipt. He explained that Skook was being rejuvenated and that it might take 6 years before it was again open for business. We asked if Sloquet was crowded and he told us that we were the only people there. Wow, our own private hot spring.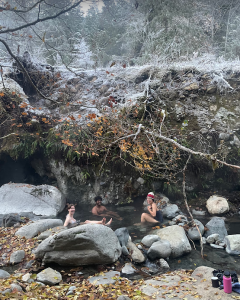 Warm Water, Cold Air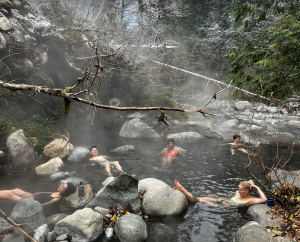 Lots of room in our private hot spring
There isn't much to say about sitting in warm water. There was plenty of warm water of various temperatures and if you wanted to get really cold, that was easy as it was -5C in the air. The sign said we might die if we stayed in for more than ten minutes, but I got bored after a couple of hours and went to bed. Others stayed up for hours. Next day I got up early and went down the slippery trail. My swim trunks were frozen solid and had two cute little icicles hanging from them, so I decided I didn't need a swim suit. Again I had enough after 2 hours and went up the slippery trail so I don't know if the others needed swim suits. It's hard to believe that only 5 years ago VOC had the "Skinny Dipping Challenge" and I won one of the competitions, maybe "most trips led".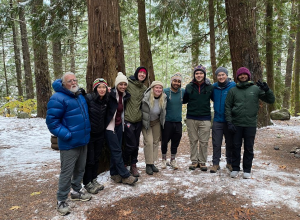 Happy at Sloquet campsite
Conclusion. People seemed happy with the trip, or if they weren't, they didn't tell me. I mostly told stories from the distant past which kept Adam awake on the long drive. Jeep said we drove about 600 km. Gas cost $176 for the Jeep and Sloquet cost $20. Should we feel guilty about all the carbon dioxide emitted by the cars? Not as long as our politicians are emitting by flying to Cairo for COP27.