This TR is a bit long. I suggest reading in segments or taking the full time to read it all. Skimming pictures is less acceptable.
On their way up from Vancouver, Marius Muja, Nora Lyngra, and Michal Rozworski sat in the back of Piotr Forysinski's 4 Runner reading a trip report from a past VOC crew who had done the Bridge Lillooet Divide. The trip report talked of an immense battle between a chocolate bunny and these past VOCers as they sat in their tents waiting out storms and bad weather. In the front seat next to Piotr listening to this was Christian Champagne and I doubt that he nor anyone else in the car would suspect a similar battle on this trip. We would also discover just how long it takes for 6 VOCers to kill the bunny. Someone might of even mentioned that we definitely won't get as much bad weather as they did and whoever said that was right. We got more…
It started nicely on a sunny Hurley FSR but back-track a bit and everyone's at my family's house in Pemberton after arriving monday night after a dinner in Squamish. Gear is all over the entrance and we're sorting tents, fuel and supplies to be carried on our backs for the next 8 days. It wasn't long before everyone was in bed dreaming of big mountains, glaciers and summits. Despite our best efforts, none of our imaginations could conjure up the beauty we saw and the awe we felt throughout this traverse.
Christian and Piotr ready to set off the morning of. Photo Marius Muja
A big oatmeal breakfast cooked by my mom with muffins from Marius' wife Adrianna and our bellies were ready. Hoping into cars we started driving up with my dad driving half of us in one car and Piotr with the other half. Weaving through the Pemberton meadows and then onto the Hurley we switchbacked our way up the melted south facing slope making it past our predictions and almost 800m high. After unloading the car my dad and I started back down with Piotr following, we would bring his truck up the Lillooet FSR at valley bottom to be our pick up car. We made it to km 17 on the road and my dad shuttled us back up. Around us were a few sledders but we resisted the temptation of messing with guys with huge trucks by stealing their sleds. Meandering on foot we climbed up the Hurley before stopping for a nice sunny lunch on the road with views big avalanche paths on the other side of the valley bordering the Pemberton Icefield.
It wasn't long before we were moving up the summer route to Semaphore lakes following Railroad Creek. Having skinned up there in terrible conditions in November, I thoroughly enjoyed the breezy switchbacks and route finding through the forest and we were quickly overcome by our heavy packs. On average most of us had packs just below 60lbs but Piotr with the bag the size of a small child with a tent strapped to the outside looked like he was carrying quite the load.
Once at the first of Semaphore Lakes we came across two sledders buzzing around. As they waited for us to get out of the way Piotr skiing a small slope in his skins hit a wind lip and completed an elegant head-plant that would make any ostrich jealous, right in front of the only other people we'd see for the next week. It even had the weight of huge to pile drive his forehead deeper! As he recovered we snacked and I faffed with my Plume bindings, one of the toe pieces couldn't lock down… again. The other? It had a stress fracture in the locking mechanism that didn't bode well. Not fun.
At first we didn't think we would make such good time but we pushed onward past our first camp location and onto Train glacier. With the increasing clouds and snow making our way onto the bench to the small lake below the glacier proved tricky. Following the easy moraine we climbed up below the bench and might have followed the moraine to high. Instead of side hilling on a dust covered crust with bindings that might at any moment pre release I opted to boot-pack what looked like a small slope and everyone followed.
The going was for the most part easy but the slope lasted a lot longer that suspected. Once up top we recollected and Piotr walked ahead feeling his way in the whiteout to see how it would be crossing to the other side of the bench at the toe of the lake. After coming back to his pack, we used his boot prints to gain the opposite side. After some more dust on crust snow we made it to the flat of Train glacier via a mix of skinning and boot-packing. Here we pitched our first Camp.
Camp Trainwreck
Christian had acquired two MEC Northwind tents through staff rentals and they proved fabulous. With the bad weather 4 of us decided to cook in the tent vestibule while Marius and Piotr set up a nice snow kitchen to enjoy the white views. We set the alarm for 6 and slept like rocks. Waking after sleeping through our alarms we peered outside to see… white. This prompted an extra hour of sleep before checking again in hope of better weather. Our "alpine start".
We knew that we shouldn't ski down from train glacier without at least some visibility due to unknown snow conditions along the upper Face-Locomotive col and a big cornice on the Handcar-Face col. We packed up our gear anyways in hope of ameliorating weather but after gaining the col we still couldn't see a thing, the wind howled and we skimped back to the calmer glacier to set up the next camp early.
Camp Lackomotion
Here we sat in our tents munching snacks, farting and playing cards. In the other tent, Piotr, Marius and Michal valiently wielded teeth and ice axes at the chocolate bunny. Sparring they were quickly defeated by the bunny's jabs to the stomach.
At some point we looked outside to see things were clearing up. Marius, Michal and Piotr were already gearing up to get a view down from the col and sight our way down. It was too late in the day to move anywhere but I rushed to gear up after a beautiful view of Faceless. Determined to race around and climbed stuff I stumbled around looking for missing pieces of gear as Christian and Nora passed me items through the tent. No sooner was I ready, everything closed up again. Marius, Michal and Piotr who had gone ahead to ski some turns near Face were lost in cloud and I stood there waiting for another opening. After a good while, I hopped back into the tent and moments later I hear Michal "Oh fuck, it's nice again."
Christian and Nora laughed at my expense while I continued mopping. While cooking dinner in the vestibules again Michal accidentally mortally injured Christian's new Exped Downmatt. Placing the hot pot into the a insulating cozy over the matt, the pot managed to melt through both the cozy and the pad leaving a wide hole. Lots of patch work continued but over the course of the trip and inflating would ensue during the dark of night.
The next morning proved to be another "alpine start". With everything heavily rimmed we were in no hurry to get out of our warm sleeping bags.
At some point things started looking decent and we made our way back to the col. Making my way down I skied a little ways before traversing towards the next col. One by one everyone followed careful of the new snow that had fallen over the sun crust. Making it to the corniced col I instinctively worked my way up the right side before dropping down onto a steep sun crusted slope. To anyone else doing this traverse, it's easier going to the left where you ski the north facing side. One by one people dropped in next to the behemoth cornice.
A few managed to lose their edges and ate snow but once recovered we all skied down the small glacier with Marius leading the way.
After being stuck in a tent it was nice to be moving quickly, we dropped down into Samson creek and gained the bench SW of Sampson.
Most of us were quite sad to skip climbing this peak but we opted for having more time to climb others in better weather. We skied down into Delilah creek and after hoping through avalanche gullies and set up for a nice lunch.
After we started switch backing through some steeper small tree'd glades to gain the flats leading to Boomerang Glacier
Soon we made it onto Boomerang glacier. Looking for a place to camp, the wind howled through the pass between Sessel and Delilah with no appealing camp location and no prospect of good weather to encourage an ascent of Sessel, we moved on. The wind crept through our shells and most felt their bones go cold. Skiing down Boomerang Glacier we dropped down into North Creek. After so much whiteout, trees were much appreciated.
Here we set up camp Burnout.
The next morning? You guessed it. "How does it look outside?" "White" "Alpine Start". ZZzzz.
By our second wakeup things were looking much better. Everyone clambered out and started enjoying some pockets of blue within the wispy clouds. Today was going to be a good day!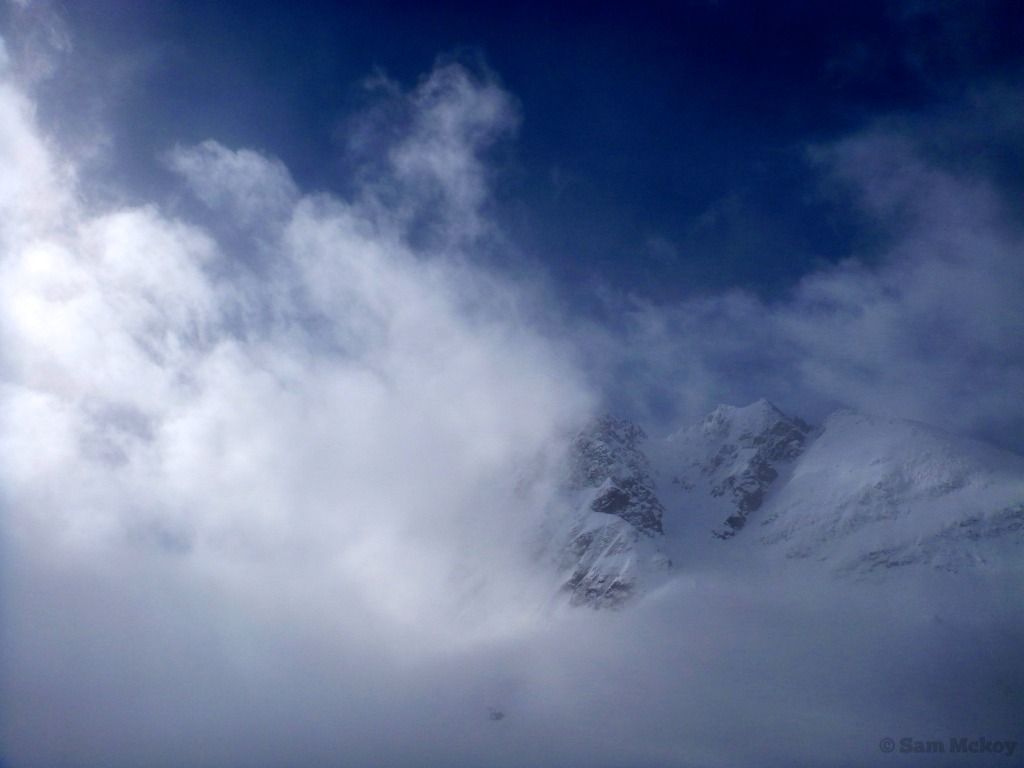 Skinning up towards the pass and col to Pebble Glacier the clouds would play around us, taunting as just above they revealed sights of blue sky.
Soon though, we were above the low clouds and enjoying views!
We debated between Mt Thiassi, the highly recommended ski mountaineering side trip or Pebble the peak, the highly recommended ski ascent with an equally highly recommended ski descent according to Baldwin. In the end we chose Pebble and set out across the glacier towards our objective.
Nevertheless, Thiassi never failed to draw our glances.
After unloading our and gearing lightly we set off to cross towards the north side of Pebble Glacier.
While most continued to traverse across Michal, Marius and I skinned up the ice capped peak (seen above) and skied some beautiful powder turns before following the others on the skin track.
The previous day Christian, Nora and I had discussed possibly doing some naked skiing if it was sunny. I held true and stripped down out of their view before blasting ahead and leaving the others questioning my sanity.
Moving fast to keep warm I worked my lungs working my way up to Pebble. The last section being a short boot-pack I decided to leave my skis at the bottom and run up, mooning Christian who was working his way up below me. Christian kindly took a few summit photos.
Feeling the cold and not wanting to wait, I started working my way down and snapped a few photos.
With others coming up, I strayed from the punched steps and found myself getting a lot of snow in my boots. I sped to try and avoid getting my feet soaked and stepped on a rock which threw me off balance. What proceeded has been coined as a "naked tomahawk off a summit" where I started running downhill trying to keep my balance before giving up and summersaulting at the bottom. Do I get a first descent?
While I spent the next eternity picking off snow melted and frozen again on my body hair and trying to get dressed, the others enjoyed some summit views before coming down. Marius and Piotr who had brought their skis got their best run of the trip.
A nice long run ensued but the snow was quite wind affected and less pleasant. We repacked our gear and skied down the mellow east fork of Pebble glacier before getting to the valley bottom. There were nice meadowed clearings perfect for camp and as we approached the ideal spot I couldn't help but noticed some tracks? Moose?
Camp Bearpaw.
Less than a few hours old, the deep, claw marked snow showed grizzly tracks exactly where we wanted to pitch tents. Piotr bemoaned how much meat he was carrying and we debated between continuing and setting up camp after another 600m of elevation in the dark to avoid messing with a hungry bear. In the end there was no question. We back tracked a clearing 50m away from the tracks and went to set up a snow kitchen downwind. Our first dinner all together, we enjoyed the clear weather and thought up of ways to fight off a bear. Ideas ranged from lighting a stove with too much priming fuel to wielding ice axes to throwing it the chocolate bunny. Surely if 6 VOCers couldn't handle the bunny, then the bear would surely be vanquished.
We set up skies and poles all around the tents to form a mental barrier and slept on our food hoping no bear would mess with 6 smelly VOCers.
A few times someone would go outside to pee and scare the rest but in the end we slept soundly and woke with no issues in the morning. It was a chilly morning with the valley holding the cold and the sun refusing to shine on our camp spot.
After packing up we headed towards the col East of Fasp.
At first following a creek we diverted to gain the ridge with some tricky steep switchbacks to avoid avalanche danger. We continued up the ridge, stopping for breaks and soon were enjoying some sunny rocks below the col.
As we approached the col it seemed steep. Marius with his ski crampons continued skinning up.
I skinned up as high as my pre releasing bindings would allow before boot packing to the left of the col. Meanwhile Nora and Christian who had tried to skin higher began bootpacking to the right. Michal and Piotr who were convinced it should be mellower skinned away to the right before coming back and joining the other boot-pack. Everyone wished that they had pulled out their ice axe or had a whippet like Christian because things got really icy and boots didn't sink very deep. On my side I clambered over loose rocks but others had nothing but a little bit of crampon-less boot on ice and rotten snow over top.
The views from the col back towards Pebble were spectacular.
From the col we skied down onto the expansive icefield between Fasp and Icemaker.
With a nice lunch on the glacier, we moved on towards icemaker, skipping peaks around the glacier. And good thing too, getting trapped on that glacier with the on-comming weather would have be less ideal.
As we skinned we continued to enjoy spectacular views. The last of the trip…
As most of us were feeling heavy from our day, Piotr blazed ahead breaking trail to the Col.
From the col we could see out towards the Chilcotin mountains and possibly the start of the Lillooet Icefields.
We skied down with flat light in the midst of on-comming clouds and storm.
Camp Icecube
There was thought about climbing Icemaker that evening but it was getting late and we hoped for better weather in the morning to take advantage of the supposedly amazing summit views. Instead we took advantage of the views of Ethelweard which in it's majesty refused to be shrouded in cloud, even at the worst of times. I have to say Ethelweard is a beautiful mountain with an aesthetic ascent and descent route in it's couloirs. My new love.
The next morning we awoke to tents loaded with wet snow, thick cloud and wind. Tent day. Were were marooned on a glacier again.
We spent the day playing more cards, more farting, napping, and munching.
Around 6, clouds cleared and Piotr, Michal and Marius decided they would try and punch for the weather window. I stood around for a while outside and decided to enjoy the views of my new love rather than head to climb a summit in a whiteout.
Piotr though has written piece on this epic:
"The day dragged on and on; the whiteout persisted and the snow kept coming down. Hours passed on lazing around in the tent, or walking over to laze around in the other tent. Finally, at around 1800hrs, the whiteout started clearing a little bit, and it became vaguely realistic to hope that it might blow away into a clear evening. Sensing a brief window of opportunity, and not willing to hope it would last until the next morning, I suggested a summit attempt on either Guthrum or Icemaker. After all, we were 'just' under the Icemaker-Guthrum col. Marius and Michal agreed to join; the other tent decided to stay and hope the weather would have improved the next morning. We set off from the tent at 1845hrs with the occasional sighting of both summits. I was initially optimistic about further weather improvement, but fairly soon we were engulfed in more whiteness and decided to rope up.
With visibility drifting in and out we proceeded towards the col and towards Guthrum, because it had more rocks along the summit ridge and would therefore be easier to see than Icemaker. We hit the ridge and skinned up it a ways towards a rocky sub-summit. It was very windy, and cold. We unroped and I was going to skirt around the sub-summit on steep-ish snow slopes below it, but the snow was very icy, and Michal realised he'd forgotten his ski crampons at camp. That left us with one alternative – leave our skis behind, take our ice axes out, and go over the rocky sub-summit.
This was actually fairly easy, and shortly afterwards I was walking through snow up the last couple of little bumps to the true summit. We took the requisite summit shots, and started heading back with the typical 'let's get the eff out of here' feeling. I was first, Marius second, and Michal third, walking down the mountain along the tracks I had kicked on the way up. We were walking along a short, flat, featureless section when I looked back and saw Marius, literally a few steps behind me, down in the snow up to his chest.
My initial assumption was that he had just punched through some layer in the snow and sunk in a fair bit deeper – but one look at his face and I knew that wasn't the case. Since he was literally a couple of steps behind me, my immediate reaction was to reach back and extend my hand to him. He grabbed it, and pulled himself out of the hole. We both looked down into a bottomless dark, struggling to process what could have just happened. It was white, cold and howling on the summit; Marius had our 30 m rope in his pack (I did have 10 m of 7mm cord and a 240 cm sling attached to my harness).
We pulled the rope out and threw one end of it over to Michal. Michal then crawled over the area plunging his ice axe, and says he poked it through the snowbridge – it was  1-1.5ft thick. We got back to our skis, put them on in a terrible gale which threatened to rip them out from our hands, and started skiing back down towards camp. It was snowing heavily and had turned completely whiteout; the wind also took out our skintrack and we couldn't follow it down anymore. Still roped up, we snow-plowed down with me going first and looking significantly more at the GPS screen than at the actual snow in front of me – there was nothing, at all, to see. A brief eternity later we saw headlamps down at camp, and knew we had made it OK. It was 2100hrs.
I have no idea what that gaping blackness was doing so close to the summit, given the terrain around it. It must have been a moat/schrund of some sort, but on a dead flat spot, and just above some rocks on the summit ridge. Perfectly covered in smooth snow… which held all three of us as we went up, and held up to me walking across it on the way down too. And finally caved in when Marius walked over it, placing his feet in my boot prints. We think it might have been his backpack which caught him and caused him to tilt forwards, both feet dangling in nothingness.
Brrr. The memory of that gaping hole still gives me the shivers. My definition of 'excessive roping up' might have been amended slightly by this experience.
Not sure what a good 'take home message' from this is though. At the very least: If you go up Guthrum from the Icemaker-Guthrum col, watch for huge, invisible, gaping holes where you wouldn't expect them to be."
…………..
Back at the tent the rest of us put bets on when they would return, trying not to think about what we'd have to do if they didn't come back. Thankfully we hit the sack all perfectly cozy and dubbed our last camp on the glaciers:
Camp Whitemaker
That night after dinner we cooked up a big pot of  s'mores melted and mixed together and added the chocolate bunny. At first it seemed it had met it's doom but as we ate we found it hard to finish the pot. The bunny was still fighting back. Once finally finished, Marius declared "I just remembered, I still have another piece in my jacket." Gaahh. The bunny lives on!
When we woke it was another "alpine start". Wet snow came down and I might have shed a tear at only having gotten 1 summit in throughout the trip. Truly frustrating when you walk at the foot of giants begging to show you their lonely views from their heads.
The day was wet and as we skied our way down the glacier, turning became increasingly difficult. Even when pointing skis downhill you wouldn't gain much speed.
We traversed across the toe of the glacier to pass over the moraine and wet avalanche soon became a concern as we watched a few slide down in front of us. We skirted out Salal creek, thinking about possibilities on Athelstan that we had to turn down. The going was slow and wet, it was raining at 2000m and raining hard. We kept moving only stopping in safe spots and constantly looking up hoping nothing was coming down.
We were out of the danger zone and working our way along the creek. Stopping for a lunch in the rain.
Continuing out Salal creek was fairly straight forward except for when the open water would bank and trap us in a canyon. Circumnavigating was interesting if not a bit sketchy.
Despite all the rain and fun in the trees. Salal creek is beautiful and wild. We enjoyed it's majic until the end.
Soon though we were following snowmobile tracks straight to the logging road. We followed this logging road past the pumice mines. We were hoping to camp by the Pebble Creek hotsprings but in a misunderstanding we thought it was further and continued on leaving it behind.
Some logging road later we camped near the Meager landslide by the logging road.
Our last camp would be named Camp NotHot-Springs
The next morning we packed our bags for the last time and hit the road.
We followed moose, grizzly, deer, blackbear and countless other tracks all along the way.
We skied for a while and some walking was mixed and finally the bunny was vanquished! 8 days later after fighting off 6 VOCers. The slogging continued for a bit but by 2ish we were back at the car.
Left to right: Marius, Piotr, Michal, Nora and Christian with myself (Sam) at the bottom.
This marks our successful Bridge-Lillooet Divide Traverse.