On June 7th, we set out to conquer Hanes Valley and Crown Mountain. After the previous weekend to Mount Coliseum, the spectacular views made many of us want to come back to explore other routes in the region.
The Hanes Valley trail is a considered a difficult hiking route that starts at Lynn Creek, crosses Lynn Headwaters Regional Park, and ends at Grouse Mountain. This route spans about 16 km and its notable feature is the fairly large scramble in the boulder field in the valley. Crown Mountain is a point of interest on the trail that is found about 10km into the trail, and is a diversion of about 1.9km (approx. 4 km total). With panoramic views, this mountain is well worth the extra effort on a clear day. The total km for the group for the day was an approx. 20 km.
A group of 7 of us met up downtown at 7:30 to catch the 7:52 210 bus to Lynn Valley Headwaters. After some ice cream and some obligatory photos, we set out around 9:00. The area was already quite busy, with many people and dogs ready to take advantage of the 30degree plus hot day called for that day. The trail was fairly flat and tree shaded till we reached Norvan Falls Junction around 10:30. Setting out determined, we were able to do this first 6 km at a fairly quick pace. At Norvan Falls we took a break for some snacks, beautiful views, a member took a quick dip in the river, and another member took the time to wrap up his bad knee. Then we set out to do the Hanes valley section. The valley was very beautiful. We stopped to take some pictures on the helicopter pad, look at the outdoor storage cache, and admire Crown Mountain from bellow. The day had started to heat up by then and we could definitely feel the heat. Once we were in the boulder field, there was little escape from direct sun. However, we were able to find little patches of shade under large boulders and trees along the way. The boulder field was well marked, and many of the group members found it fun. However, while we were in the boulder field, we had an incident.
Incident: Because this event involved me, we decided that I should write the trip report (ha)! Around 1 pm we were half way through the boulder field when I cut my finger open. I went to sit down on a rock for a break and was putting my hand down when I didn't notice that the rock had a very sharp edge. I apparently caught the edge just at the right angle, lowering myself putting all my weight on my hands, slicing my finger pretty deep. The cut is on my left index finger and extends about 2 inches from my second joint to the palm. It did not hurt as much as I thought it would but was bleeding fairly quickly and split open somewhat deep. I called the group and fortunately one of our group members had their Wilderness First Aid training. We quickly cleaned the wound, put some butterfly Band-Aids on, and wrapped it with gauze and tape so it wouldn't get dirty. We noted the time of day (around 1 pm), my level of pain (which was about a 1 out of 10, more surprised then hurt), and evaluated the situation (what happened and how much I wanted to pursue). I choose to continue on and partake in Crown Mountain because it stopped bleeding, was not throbbing, and not really impacting my range of motion. However, I was very cautious the rest of the hike, making sure to be deliberate in my movement, and mainly using the palm if necessary. We were not sure whether or not I needed glue or stitches, so it was agreed upon that I go to the hospital afterwards to be looked at.
After I cut my finger open and bandaged it, we decided to take our lunch there. We then continued to finish the boulder field. As the boulder field was in direct sunlight, we had the sun beating down on us for a solid 2 km. I believe it drained everyone more than we thought it would, and therefore, we drank more water there than we thought we would for this section. Unfortunately, there were no good water sources beyond the Norvan Falls area, so once we got to the diversion to Crown Mountain, many people were running low. At this time, our group was still quite alert and ambitious, so we still decided to do Crown Mountain. One of our group members decided not to do Crown, as they had done it the week previously and wanted to take it easy on their knee. Therefore, 6 of us did Crown Mountain and discussed meeting up with the member at Grouse afterwards. Crown Mountain was very steep, rocky terrain. We did not stay up very long due to the time of day, and concern about water.
Dehydration and Mild Heat Exhaustion: After descending Crown Mountain, our group was quite tired and dehydrated. We had little to no water left between the 6 of us and we discovered that there was no real water source until Grouse (last little bit of water we saw was on the trail at Crown Mountain). We had another 4 km til Grouse, which took much longer than usual due to the intense heat and lack of water. We agreed that we underestimated how long it would take us to add Crown to our trip and believe we would have been fine if we had more water. Therefore, we realized that if we would be hiking in that heat again, to bring more water than we would usually want (at least 1-2 litres). Several group members were starting to feel the mild affects of heat exhaustion: parched throat, head ache, and one member had moments of feeling light headed. Fortunately, our member that decided to not hike Crown was messaged and asked to bring us water on the trail! In the end, we were all ok! We had a quick refresh in the Grouse Lodge, and then chose to take the Gondola down.
Trip to Hospital: After heading down to Lonsdale on the bus around 9 pm, our group parted ways. I headed to the Lions Gate Hospital Emergency Care with our Wilderness First Aid Attendant to get my finger looked at. After waiting together for about 2.5 hours, I was finally seen by the surgeon. It was decided that my finger be stitched up to heal faster (Sorry for gory photos. Was requested :P)! Id like to thank Dan for staying with me and keeping me company at the hospital till 11:30 pm! We probably didn't get home till around 12:30 am.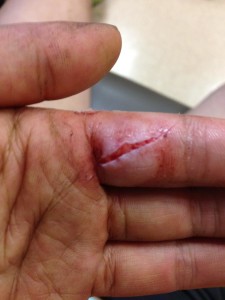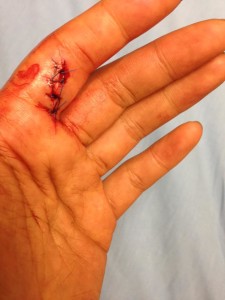 Summary of considerations:
-       Wear long socks in your 6' hiking boots to avoid hotspots and potential blisters. A couple of us were wearing ankle socks (thanks Else :P)
-       Everyone should carry their own basic first aid kit
-       Bring at least 3-4 litres of water EACH! Because it was very hot, we drank a lot more water than expected.
-       No good water sources beyond Norvan Falls area
-       End of the day can be a bit rough when everyone is tired. Everyone handles being tired differently so be honest, don't take it personally, and stick it out as a team!
This was my first trip report so thanks everyone for bearing with me! If you were on the trip and would like to add some detail about our trip, please feel free to add things in the comments bellow! Thanks everyone!
Cheers,
Lianne