On Saturday, June 13, 2015, we set out to hike to the Dennett Lake in the Pinecone Burke park, and reached the Burke Peak shown as the yellow star in the following picture.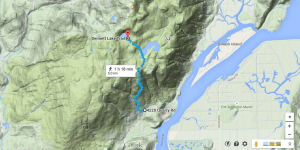 At 9am we were still sleepy, but we spotted one black bear near the trailhead that woke us up. Now it's the season to harvest berries, and that black bear was one step ahead of us to enjoy the delicious treats.
But we were not afraid of the black bear, because we had a large group of 14 persons along with a fluffy white polar bear dog, Meru.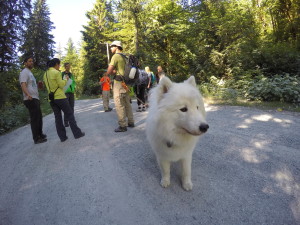 Another photo of the adorable dog.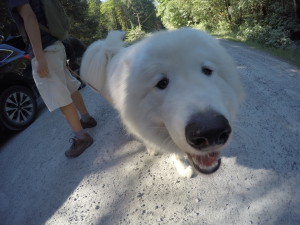 Then we went through the trail covered with 2-meter high bushes, and unfortunately we didn't met that black bear again. But there were some signs that indicated that the black bear had passed by: clawed tree trunks, a new trail in the bush made by a large animal crushing down, weird big poops not likely belonging to small dogs or human.
We also got lost in the beginning of the hike and needed to climb back to find the right direction. Just a tip that a GPS works pretty well there, and google map or free altitude App will be helpful for hiking if you don't care about your cell phone battery.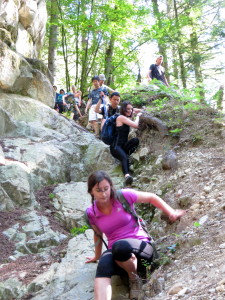 Never mind, later we didn't care about the black bear, and began to enjoy some snacks and had a rest. Just a kind advice here that please don't feed dogs, and the reason will be shown later in this report.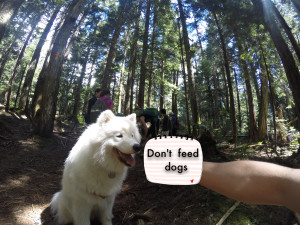 The trail at higher elevation was pretty muddy, and the white claws of this polar bear dog turned black.
And we had our group selfie photo at Munro Lake! It's around noon, and we enjoyed our lunch there.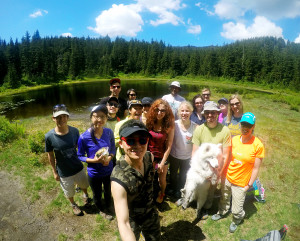 Then we kept hiking to the Dennett Lake.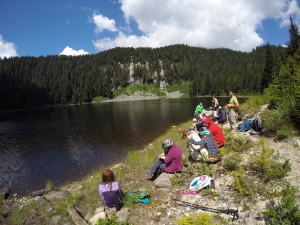 Some group members enjoyed swim there, and even this dog Meru wanted to join them.
And here are some tips for people hiking to the lake in the summer: please bring fly repellent or anti fly mesh to keep poisonous and giant bugs away, and bring a towel, clothing and extra sunscreen for swimming.
At the Dennett Lake, Meru got sick due to eating something wrong. It's sad to see the eyes of a sick dog. And just keep in mind again that don't feed dogs.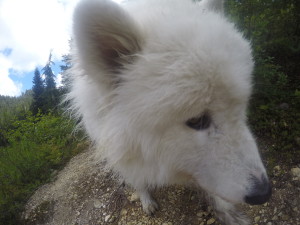 In the VOC, we are always full of energy. And we proved it by continuing hiking beyond our goal to Burke Peak, and here is the evidence.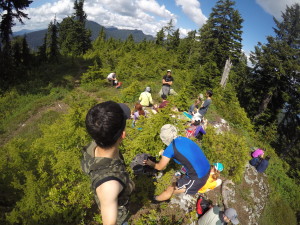 On the way back, our captain Ryan used the water filter to provide more water. Here is a photo of him working and a naked person swimming behind the mosaic spot.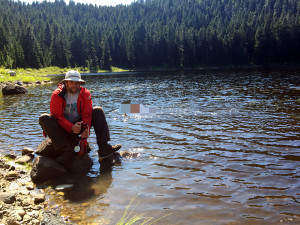 From this photo, you know it's around 5pm when we were heading back.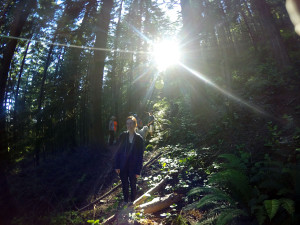 Finally, we got back to the trailhead around 6:30pm. Though exhausted, we discussed a lot of jokes such as "What do you call a cow that has 1 leg?" or "What do you call a cow that has 2 legs?" And some dirty jokes were also discussed, but I won't mention them since this is a public report, and something that shouldn't be known to children. If you are curious, please find the most suspicious persons in the photo and ask them directly.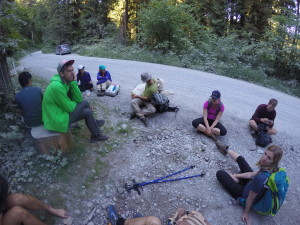 In summary, we enjoyed Pinecone Burke Day Hike with around 21k round trip and around 1000m elevation gain. It's a beginner friendly trip, but as a beginner, it's recommended to google info about the hiking trail beforehand and to be well prepared. And if you are patient enough to read the report to the end, here are extra photos for you.
Our awesome group in Ryan's Car!
Another adorable photo of Meru!