Last weekend I joined my first ever VOC trip; a backcountry adventure up to Semaphore Lakes organised by Graham Brown. I knew we were off to a good start when I was immediately offered tea (I'm British!) and a big, comfy armchair at the pre-trip meeting! Maybe surprisingly, this comfort was actually a sign of what was to come! Not quite what I expected from a 'backcountry' adventure.
Saturday morning came round fast – it does that when you have a 5am start. But we were off, driving North through torrential rain, remaining optimistic that it would stop as soon as we started hiking. And by some miracle, it did! We arrived, after an hours hike, at our home for the night; a beautiful spot right next to the lake, surrounded by beautiful alpine landscapes. It was then that we learned that Andrew had carried up a four-person tent, which was swiftly christened 'The Lounge'. What a luxury!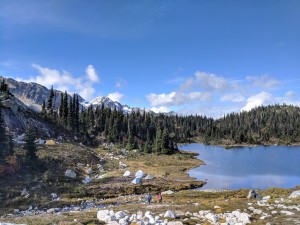 Photo (Crystal To): Our backcountry 'estate' complete with upstairs entertaining room!
By this time unfortunately the rain had caught up with us. Ever optimistic though, we decided to go for a hike up to the bottom of the glacier. After much scrambling around on the rocks by the waterfall of melt water, we admitted defeat and headed back, in search of dry downies and hot food.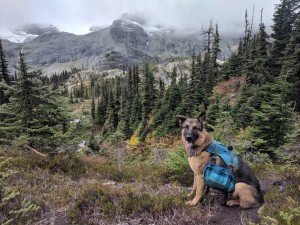 Photo (Crystal To): Stella was definitely the most photogenic of us!
Back at camp, with everything soaked we retired to the lounge. Sleeping pads and bags were brought in and it became the most luxurious of backcountry hangouts, complete with a stunning view over the lake to the mountains beyond (when the clouds cleared that is). Much mulled wine and chocolate was consumed from inside our lavish social space – much better than standing outside in the rain!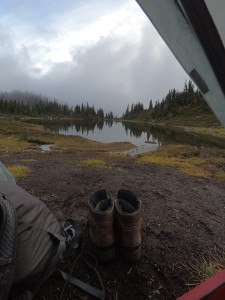 Photo (Charlotte Nelson): A room with a view.
Eventually, one by one, we retired 'downstairs' to our village of canvas bedrooms. Waking in the morning to the soft sprinkling of rain, we struggled to emerge. The forecast had shown bluebird skies for Sunday so we were a little disheartened. Eventually we made it back into the outside world, fed ourselves, and were on our way, this time to attempt the scramble up to Locomotive Mountain. It seemed the clouds had other ideas, and intermittently swirled around us, making route finding a challenge. We made it to the main ridge, but not the summit this time.
After packing away our backcountry estate, we headed back down to the cars, with Stella leading the way of course. This was when the biggest decision of the weekend struck: What type of food did we want to get for dinner on the way home?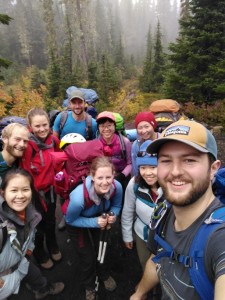 Photo (Graham Brown): The crew!
Thanks to everyone on the trip (Graham, Crystal (& Stella), Martin, Andrew, Amy, Zenia, Mary & Julie) for a great weekend and for providing such a friendly introduction to the VOC. I'm already looking forward to the charcoal BBQ Martin offered to add to the estate next time!!!
C