October 19th, 2019:
It was to be an early morning adventure. Plagued by midterm season, us students sought a weekend outdoor adventure, yet wanted to alot time for studying. Thus, the sunrise hike was planned. I was awoken from a deep slumber at 5:30AM on Saturday morning. After shoving some oatmeal down my throat, and stumbling half-asleep into my building's elevator, I met up with fellow sleepy girl Anya. We were graciously swooped up by Haley, with Emma and Julia in tow. Sleepy and excited, we began the 40 minute drive to the Cypress Mountain ski resort. Our plan was to hike to St. Mark's Summit, get an awesome view, and then head back to campus, all before the day was half-over. Adventure awaited!
We arrived and parked near the Cypress lodge at about 7:00, where we spent some time layering up and contemplating our decision to hike in 5 degree weather, before hitting the trail. It took some time to navigate our way, but eventually we located the trailhead and began a steady ascent upwards. The first section of the trail was graveled and very well maintained and, as the sky began to lighten, we got our first peak of the snow capped Lions in the distance. At this point we began to encounter some snow patches on the ground, as well as loads of mud. A dream!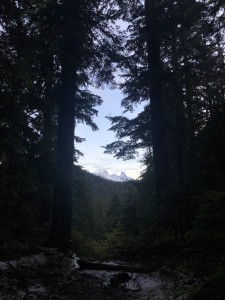 Eventually the trail became steeper, with some scrambling required here and there as the ground became more laden with snow. We were required to cross a few large mud patches by hopping from log-to-log, where some of the clumsier hikers (read: me) were unable to avoid a few stumbles resulting in mud-soaked boots. All a part of the fun!
We reached St. Mark's Summit at about 9:45, and after 2.5 hours of hiking we had had the trail all to ourselves! Though it was foggy, we were met with a gorgeous view of the snow-capped Tantalus Range, and after scrambling a bit we found a 'scenic vista' of sorts, with views of Howe Sound, were we could see the Sea to Sky highway far below us. We snacked on some delectable treats (Anya's freeze-dried chickpeas), took some Patagucci-worthy pics, and gazed at the Lions in appreciation before beginning our descent at 10:15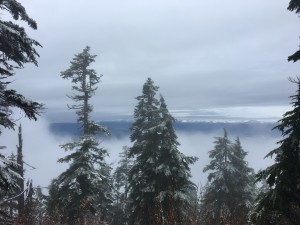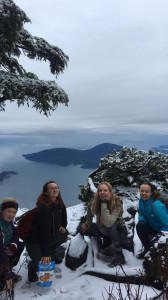 On the way up, we'd had the trail to ourselves, but as we descended St. Mark's Summit, we encountered more groups on their way up. With frozen toes and hunger in our bellies, we quickly made our way back to Haley's car, arriving at 12:30, just past noon. In our chilly state, we decided that the best possible course of action would be to find the nearest ramen shop, where we could fill our bellies with warm, yummy broth and feel accomplished at having done something real frickin cool! Twas the perfect ending to a wonderful, early morning outing.