Note: All covid protocols were taken seriously on this trip.
Mt mulligan trip report: Feb 15 2021
The team: Tobias, Edward, William, Kevin, and Myself.
Posts on south coast touring on February 14 made Mulligan a desirable target for the boys and I. Deaths in the sea to sky a few days prior due to avalanche quickly turned our eyes to mellow skiing, and Tobias told us Mulligan is king of mellow. With an 8am pickup from my house we were off to get us some pow.
Chains on, we were ready to rock up the spur to mulligan. We drove passed some skinners who had to park quite a ways down at the spur. They looked pissed at us for some reason, we thought they were jelly we were going to slay pow before them. Turns out upon messaging friends about the treacherous road conditions, that I discovered that those skiers were in fact my friends, Melissa, Jacob, Kaylie as well as others in the party. They were in fact jelly we had a vehicle that could tackle the road. I had no idea they were going up that day to ski but I'm glad I was in the chained up 4×4. We pulled over to park at a small lot at 720 meters. Apparently some dude posted he made it up to 840, but there was a tree felled at 740. Must have been driving a slammed street racer to limbo under that.
We had the quickest transition into boots and skins I ever experienced; darting off at a brisk pace passing the other groups before us. Man is skinning quick tough; it was an effort to keep up with these powder hounds starving for big lines of the white stuff. The call of the wild soothed thoughts of aching muscles and drove me forward ignoring pain. Mountain air filled our lungs until the sledders came roaring through. This was my first experience skinning with snowmobiles around us, and my impression of them wasn't the best. The sound, and smell of the machines was a miasma choking out the serenity of the space. They sledded to our left and our right, before us and behind us. Did they want to track out all the pow before they even put on their snowboards and skis? Im all for sharing the space, but please chill out when you are a few meters from the skin track  and skiers in a wide open area, I can taste your fumes. Once into the trees again we could forget about engines, smoke, and the machinations of Isengard to focus on the objective at hand.
At the summit we took a well earned lunch break, having had to break some track to get there. The Edward and William broke out the stove, instant noodles and "bocconcini" aka fish balls. Poor William forgot the veg in the fridge. Big L. Me? My lunch was two ingredients, bread and salami. Kevin had some Tikka Masala? I wasn't too sure they were memeing his lunch though that's for sure. Tobias scarfed down his meal and went to dig a pit. For more info on said pit see his post on avalanche Canada. 20 or so minutes later we were all ready to ski while Tobias was still playing in the sandbox; should we bring a Tonka dump truck toy  next time to help excavate the pit? geez

I jest, but man's hands were getting cold…
Skis on, Kevin and I took the mellower right side of the summit where as the other three took the steeper section head on. Into the trees we went; flowing through, nearly hit a shrubbery on the way down I did! Second time playing in powder and I must say I fared much better than my first time powder skiing with my homies in the party mentioned earlier on Sproatt. Still more snowplough than I wanted. But I was much more in the headspace to take the skiing head on and charge some lines. Skiing with the boys is always different! Through the glades and into the open space again I could feel my legs on fire. The stoke in my heart kept that fire going hot. Relentless, indomitable, resolute. In that hour of ski we were free; free of the burdens that weighed us down in the daily humdrum of civilized existence.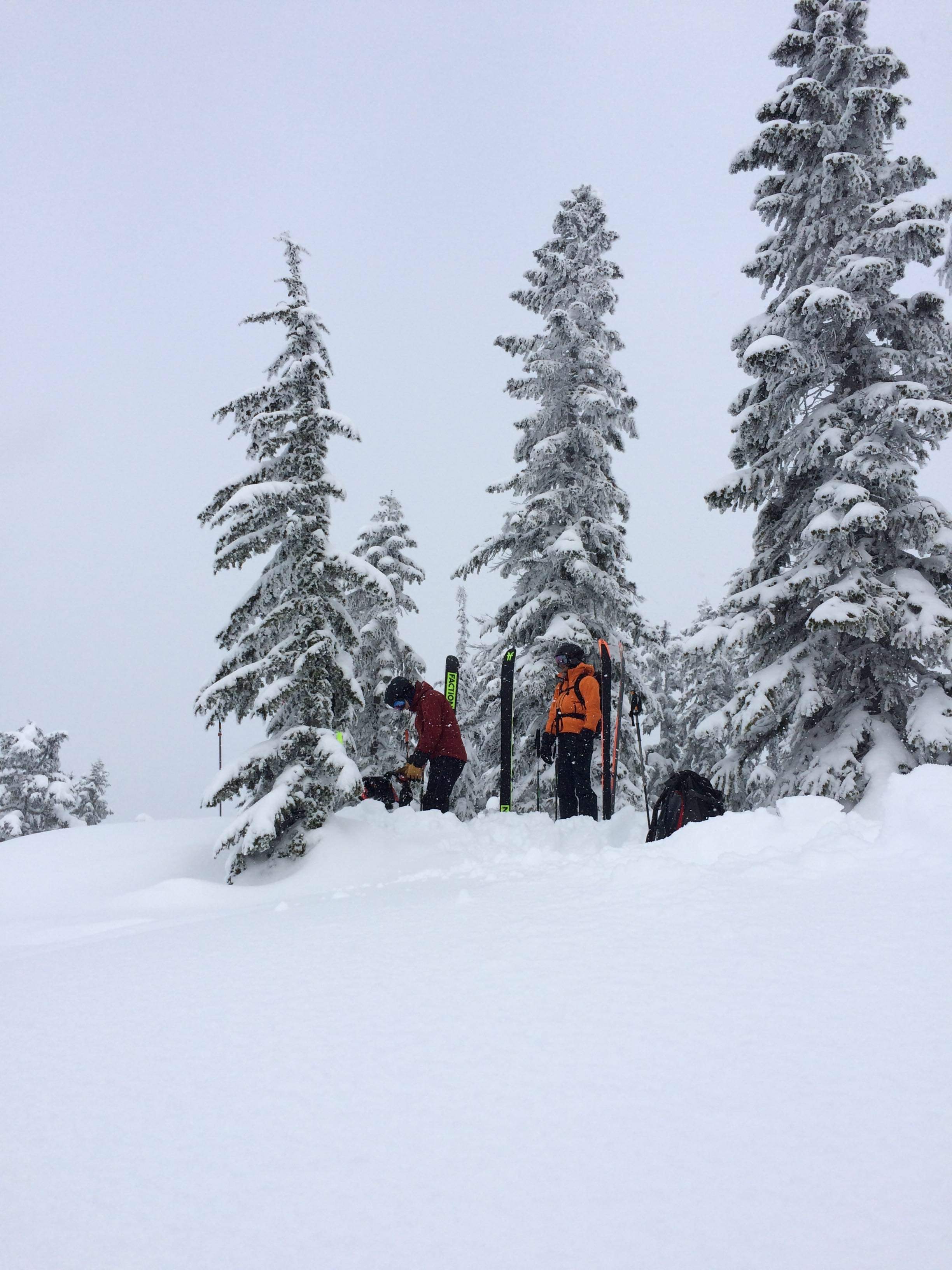 (William and I getting ready to ski from the summit)
The FSR proved a lot bumpier from when we last left it. Poor Kevin took a spill into a tree well in front of another group of skiers skinning up… 'barrassing. Too bad Tobias , Edward and I were further ahead and didn't see it happen. Driving back down proved more difficult than driving up. We decided to deploy our big brain tactic of airing down the front tires to get some more grip for steering. Perfect solution to end a good day of ski. Back on the main road we passed a pickup fully on its side in a ditch. We asked if they needed a hand of some sort but there wasn't much we were equipped with to get them fully out. Hopefully they were able to make it back home having contacted a tow truck.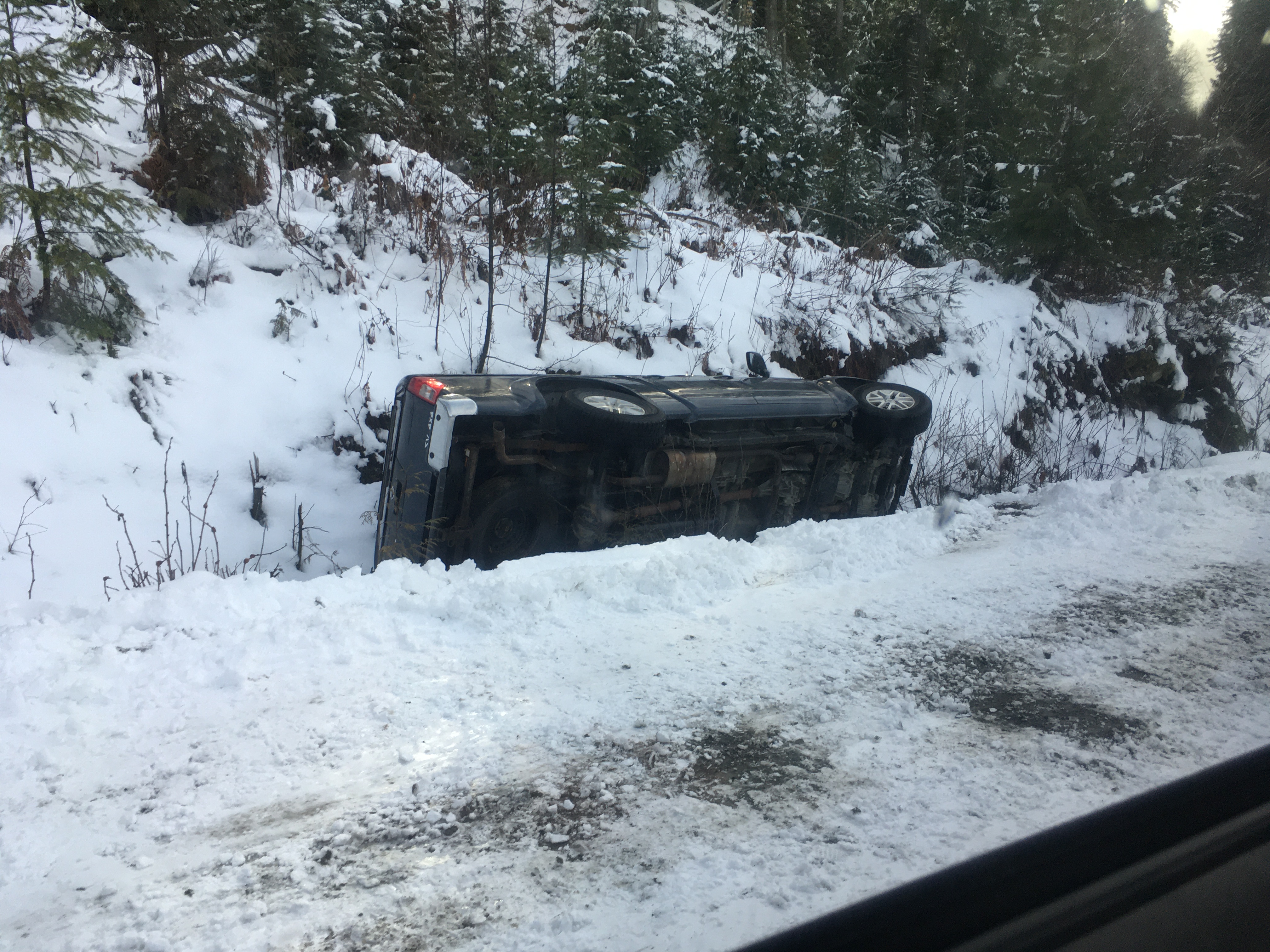 (The truck in the ditch.)
Speaking of home, the cold cans chilling in the fridge were ambrosia to my lips, and balm to the body. Here's to more safe and successful days of ski this season!